Both of the Tullahoma High School basketball coaches were a part of the first-ever District 8-AAA Media Day on Monday in Fayetteville.
Nearly the full district was represented at the inaugural media day, minus Shelbyville, as neither coach was able to attend. From the Tullahoma coaches, there was nothing but a sense of optimism.
On the girls side, Tullahoma didn't have any players graduate and was able to win the District 8-AAA Tournament last year in Lawrenceburg. In his second year at helm of the Lady Wildcats, head coach Cody McMurtry hopes to build off last year's success. This season is off to a good start already, seeing growth on the bench.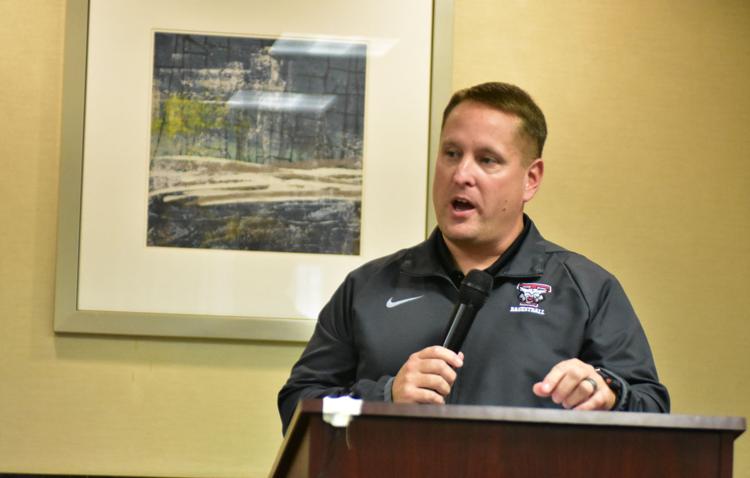 "We've almost doubled our roster from last year," McMurtry said. "We had 11 girls on our roster last year and we are up to 20 this year. We didn't lose anybody and we didn't have any seniors."
Last season Tullahoma was led by four juniors, who are now seniors this year. McMurtry said he expects those seniors – Julia Duncan, Macey Bowman, Ty Hardin and Jessica Edde – to once again bring leadership to his squad.
Another positive for Tullahoma heading into this season, is that it is expected to have junior Kailyn Farrell for the entire year. Before last season tipped off, the Lady Wildcats received late word from the TSSAA that she would be ineligible to play until January.
"It's going to be huge for us. She's a dominant presence for us, but she's also a leader. Even though she's a junior, she's the glue that holds everything together. Not having her at the beginning of last year, kind of made everything fall apart. I guess you'd say that we kind of had to learn how to play again."
Tullahoma started last season by losing its first seven games. Despite the slow start, McMurtry said looking back, he wouldn't have wanted the year to play out any other way.
"It helped us down the road when it came to tournament time and that's ultimately what you play for is the tournament," he said. "The season is just one big preseason really, building for the tournament. It's going to huge for us to get off to a good start in those first two or three games, just so that feeling doesn't sink back in where it's like, 'Here we go again.'"
Once she was able to suit up and play, Farrell had a huge impact in play. In fact, in her first game as a sophomore, the forward put up a double-double at Columbia. She and Duncan were Tullahoma's two leading scorers during the final two months of the last season.
"They do a great job of feeding off of each other," McMurtry said. "One of the struggles they had last year when Kailyn came back, was that Julia had got into a rhythm and driving the ball. Now there was this huge presence in the middle that was taking away her driving lanes. Once they got used to playing together those lanes became open again."
Looking over Tullahoma's schedule, it will have some difficult tests to start the year, including opening the regular season on Nov. 19, with a trip to Independence at 6:30 p.m.
"We have a somewhat challenging non-district schedule. It may not be as challenging as our schedule was last year, in terms of as many Rutherford County schools. But, we are playing some schools that we rarely play. So, it gives us a variance of different teams."
During the preseason, the Lady Wildcats are scheduled to travel for a pair of scrimmages on Nov. 5. Tullahoma will then head to Riverdale for a play day on Nov. 12, before wrapping up the preseason with an exhibition game at Nolensville.
"We only have two home games before Christmas, so with scrimmages and everything during the preseason, we tried to schedule everything on the road," McMurtry said. "So, we are not at home on anything. We are at Blackman, at Riverdale and at Nolensville, just to try to give the girls that feeling of being on the road."
On the boys' side, new Wildcats' Head Coach Jason Welch took the podium. Welch officially took the Tullahoma job back in April, after spending 15 years at helm at Macon County, where he led the program to 269 wins.
The Wildcats saw their season end in the district tournament last year, losing to Columbia Central. Tullahoma returns three seniors – Ben Fulton, Austin Secrest and Jake Hollandsworth – all of whom played critical roles for the Wildcats last season.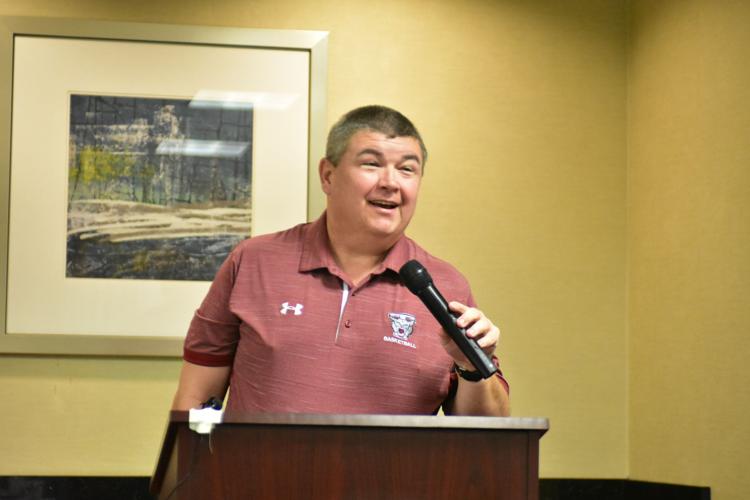 One of the difficult parts of taking over a head coaching job is getting the returning players to be welcoming of the new coach. During the summer, Welch said his players did exactly that.
"The guys have worked very hard. They've been accepting of me and I've been grateful. The boys are working hard. We've got nine who are in football, so we'll have seven that we are working with. We've tried to change the culture and the kids have accepted it very well."
During the summer, Tullahoma traveled to several camps, and got to see several top-ranked teams.
"We went and saw everybody," Welch said. "By the end of the summer we wore out but we played really well."
Aside from the three seniors, Tullahoma will be reliant on younger players. This year's Wildcat squad will have eight seniors, all of whom are expected to play a vital role this season.
"Our sophomore class is really good," Welch said. "We are going to be relying on them for the next few years."
One of the challenges that Welch is expected to deal with his having the majority of team be missing when it comes to the season start. While there are 16 players currently on the Wildcats' roster, nine of those are currently playing for the football team, which has already locked up a playoff spot. The first round of the playoffs gets underway on Nov. 8.
When basketball practice gets underway on Monday, Welch said he only expects to have seven players. Because of that, the Wildcats only have one exhibition on its schedule, as they host Richland on Nov. 14.
"That's the only scrimmage that we have, because it's hard to say that you want to scrimmage when you only have seven players," Welch said. "We are expecting to start the season and have different guys play a little bit. It's going to be fun."
The Wildcats will open the season with a trip to Independence on Nov. 19. Tipoff is scheduled for 8 p.m.