While the immediate focus of the TSSAA has been fall sports, some of the Tullahoma winter sports have been busy this summer, including the THS wrestling teams.
In fact, earlier this summer, the Tullahoma High School wrestling teams announced a major change this coming season, renaming its facility to the Welsh Wrestling Center. The honor is to recognize Pat Welsh and his family. Welsh was inducted into the Tennessee Chapter of the National Wrestling Hall of Fame in 2017.
"I've had enough honors, and to be honest, it's a little embarrassing because I probably don't deserve them," Welsh said. "This one has been a lot easier to accept because they included my family. Every one of them has given selflessly to the sport in their own special way. I'll forever be indebted to them. It should be noted that wrestling has been awful good to me and my family."
Welsh was introduced to the sport of wrestling when he coached at Battle Ground Academy in Franklin in 1976. After leaving his teaching position in 1979, Welsh made his way back to Tullahoma, working for Builder Supply Company. He thought he was done with wrestling, however through his family, he was able to make his way back to the sport.
When his oldest son, John, was in elementary school, Welch was approached by Ken Hagan, who knew of Welch's coaching background at BGA. Hagan, who wrestled in college, including a national tournament appearance, wanted to know if Welsh knew of anybody who was interested in youth wrestling as Hagan's son was interested in the sport.
From there, Welsh and Hagan worked on founding a program for youth wrestlers in the area, the first in Middle Tennessee. That's where the Tullahoma Takedown Club was born, introducing youths to the sport of wrestling, while competing in several different tournaments.
For his dedication to Tullahoma wrestling, THS Head Boys Wrestling Coach Al Morris called the renaming of the facility "a no-brainer."
"Pat and his family have been a part of Tullahoma wrestling since 1991," Al said. "They've all volunteered, wrestled, kept scorebooks and helped run tournaments. Pat has also helped run our kid's club. It doesn't take much to learn who the godfather of wrestling in Tullahoma is."
Earlier this month, the Tullahoma High School wrestling teams shared a video of the new upgrades to the facility at the Old West gymnasium. The gym features new padding and painting along the walls with the new facility name, as well as the Tullahoma Tough logo.
"It's not completed," Al said. "There are a couple of things that we need to have done. We are actually getting the Welsh Wrestling Center patch redone as well. We've had a lot of contributions throughout the community. Once again, parents, sponsors, you name it, they have stepped up."
The renovations to the Old West gym started nearly two years ago for the THS wrestling teams. The project started with removing the old locker rooms beneath the stands.
"We made those [old locker rooms] into our weight facility," said THS Head Girls Wrestling Coach Jenna Morris. "Then we redid all of the boys and girls locker rooms and repainted those. We completed the film room, painted it and put in theater seating. We installed our VIP mat-side seating and then made changes to the coaching office.
"It's an old building that we are working with that we are fortunate to have. It's just a process of trying to update it. Not many wrestling teams have that luxury. We want to beautify it, we want to be proud of it and we want people to walk in and be able to say, 'Dang, I want to be at Tullahoma.'"
This summer, the THS wrestling teams knew that they wanted to make upgrades and they knew immediately where they wanted to start. However, the other goals that they had this offseason were forced to be put on hold due to Bonnaroo not occurring. According to Al, 75-80 percent of the team's fundraiser money comes from the annual festival in Manchester.
"We knew first that we needed wall mats, not only for the look, but for the safety of the kids," Jenna said. "We started with those first. The next things on our list is two new wrestling mats that go wall-to-wall with the wall mats. We are going to have to put that on hold because we don't have Bonnaroo this year.
"Other than that, we need to re-do the bleachers. I think the bleachers are original to the school. Then we need to repaint the gym. I think then, we will have one of the nicest wrestling facilities in the state, if not the nicest."
Wrestling in a COVID-19 world
While questions surround the start of fall sports, winter sports at the high school are still training. However, like many other teams, wrestlers are not allowed to have contact with any of their teammates.
That makes practices a little harder. However, according to the THS coaches, they've found ways around it and said the wrestlers have embraced the new challenges.
"Right now, we aren't even going in our wrestling facility. Some of our kids still haven't seen it and we've been working out in the parking lot. We have two sessions going, a 7-8 a.m. session and a 5-6 p.m. session. We are 6-feet apart and we are spread out. We gave every kid a weight. They take it home with them and bring it back the next day to practice. The kids have responded well. They don't ask questions and they understand where we are at."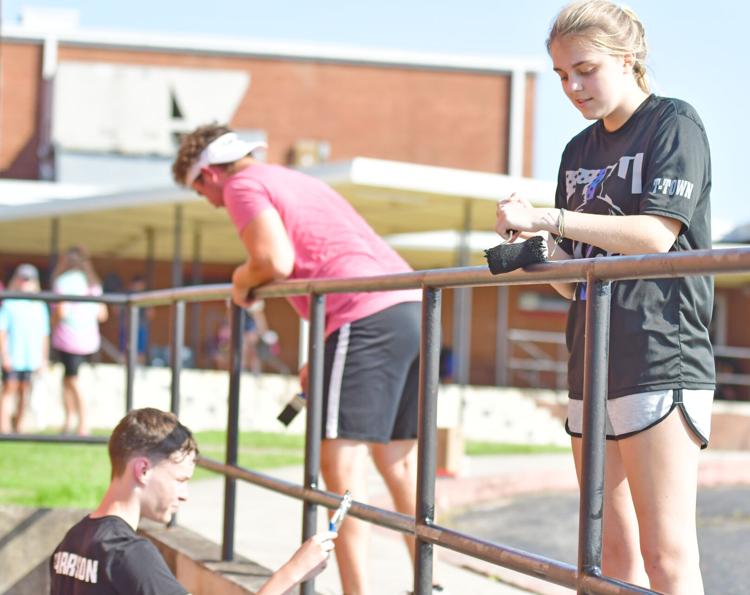 Jenna added to that, stating that after talking to some of her wrestlers, she can tell that they are ready for a little bit of return to normalcy. Practices help in that search for a normal schedule.
"They are ready and they want a little bit of what they can control," Jenna said. "They want a little bit of hope to hang on to, so that's what we are trying to give them."
Additionally, like many other athletes, the Tullahoma wrestling teams were involved in helping improve the campus around THS. The majority of athletes at Tullahoma participated in the week-long event earlier this month, which was recommended by new THS Principal Jason Quick.
"I think that was a great idea," Al said. "Our athletes perform quite a bit at these facilities. What better way to have them appreciate what they have then to have them take care of it? Wrestling happened to volunteer for the painting portion. We have a large amount of kids come out and I'm proud to see them out here."
The work won't just stop at the high school, Al said. According to the Wildcats' coach, he needs his wrestler's help at the new Welsh Wrestling Center.
"We need to do something over at the Welsh Wrestling Center area, particularly on the exterior of that facility," Al said. "We are really the only ones who use that, so that's another opportunity for our kids to appreciate what they have over there."
While there is some uncertainty about the start of high school sports, wrestling season is hopeful to get started in early November.