Once DeKalb County started scoring on Friday night, it couldn't be stopped, as the Tigers scored on seven-straight possessions, using that to capture a 45-34 home win over Tullahoma on Friday.
The loss ended the Wildcats' season, while DeKalb County will head to Marshall County this coming Friday. Tullahoma ends the season with a 7-4 overall record.
"I wasn't counting on their quarterback having a career night against us. All you can say though is that they made some good plays," said Tullahoma Head Coach John Olive. "It became a high-scoring game and we missed a couple of opportunities and they were able to get a gap in there. I don't think we made them punt after the first quarter. They figured out some matchups that they had."
Tigers' quarterback Axel Aldino was nearly perfect passing the ball against Tullahoma. The junior quarterback completed 20 of his 24 pass attempts for 301 yards, throwing for four touchdowns.
Aldino's favorite target all night was wide receiver Desmond Nokes. The duo connected for three touchdowns, as Nokes had five catches for 165 yards. Nokes additionally had a 2-yard rushing touchdown.
Aldino also used his legs to make plays, carrying the ball 22 times for 85 yards. Nathaniel Crook added a rushing touchdown and 75 yards on 15 attempts.
While DeKalb County put up 463 yards of offense on Friday, it was Tullahoma that got the scoring started, forcing the Tigers to punt on back-to-back drives. Jakobe Thomas scored the first of his four touchdowns for the Wildcats, rushing for a 4-yard touchdown with 11:47 left in the second quarter.
Matt Marcel followed by hitting the extra-point kick to make the score 7-0. Marcel was perfect on PAT kicks all night.
DeKalb County answered right back with a scoring drive of its own. On fourth-and-goal from the 2-yard line, Aldino hit Nokes for a touchdown, evening the score at 7 with 7:01 left in the first half.
Tullahoma turned the ball over on its next offensive drive as quarterback Ben Fulton was intercepted. Three plays later, DeKalb County grabbed the lead when Nokes reeled in a 70-yard touchdown reception, giving the Tigers a 14-7 lead with 2:29 remaining in the second quarter.
That advantage didn't last long as Tullahoma evened the score just seconds later. After a good kick return by Quintin Howard, the Wildcats took over at their 45-yard line. One play later, Fulton hit Thomas for a 55-yard touchdown, tying the game at 14 with 2:07 left before halftime.
Just before the break, the Tigers added one final score, taking a 21-14 advantage into the locker room. This time, Aldino was able to hit Tyzaun Ladet for a 30-yard touchdown with 26.6 seconds left in the second period.
Tullahoma had an opportunity to even the score just before halftime. As time expired in the first half, DeKalb County was called for a personal foul, giving the Wildcats the ball at the Tigers' 20-yard line. However, Fulton's pass on the next play was incomplete.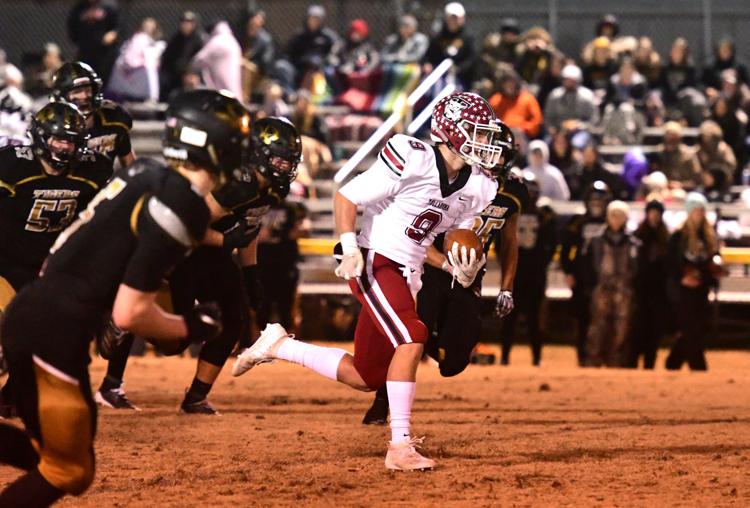 In the second half, Tullahoma quickly evened the score with a quick five-play drive with 9:32 left in the third quarter. Bo Nunley was able to break free down the middle of the field, scoring from 46 yards out.
However, DeKalb County grabbed the lead again, this time for good with a quick drive of its own. Aldino was able to find Nokes for a 30-yard touchdown reception, putting the Tigers in front 28-21 with 7:32 left in the third quarter.
After moving the ball to DeKalb County's 44-yard line, the Wildcats were stopped there, and they opted to punt the ball away. Seven plays later, Nokes capped off an 82-yard drive, with a 2-yard rushing touchdown, giving the Tigers a 35-21 lead with 2:45 left in the third quarter.
Tullahoma cut into its deficit with a score on its next offensive possession. Thomas rushed for an 8-yard touchdown with 10:53 left in the fourth quarter, and the Wildcats' trailed 35-28.
DeKalb County responded with a long 12-play drive that resulted in points. This time Alan Munoz drilled a 23-yard field goal for the Tigers, giving his team a 38-28 advantage with 4:27 left in the contest.
On the ensuing kickoff, DeKalb County elected to go for a pooch kick, and Tullahoma bobbled the football. The Tigers were able to recover, taking over at the Wildcats' 35-yard line.
Three plays later, DeKalb County padded its lead even more. This time Crook was able to break loose for a 16-yard touchdown, upping the score to 45-28 with 2:53 left in the ballgame.
A personal foul, allowed Tullahoma to start its next drive with great field possession, as the Wildcats took over from midfield. Fulton and Thomas combined for a long 42-yard pass, before the duo connected for an 8-yard touchdown on the following play.
The Wildcats elected to go for a 2-point conversion. However, that attempt fell short, as Thomas was wrapped up at the 2-yard line, making the score 45-34 with 2:12 left in the contest.
DeKalb County was able to recover an onside kick attempt, and from there was able to bleed out the clock.
Tullahoma totaled 358 yards of offense Friday, led by the passing attack. Fulton completed 14 of his 19 attempts for 260 yards and two touchdowns, while being intercepted once.
Thomas was Fulton's leading target, as the junior reeled in six catches for 148 yards and two touchdowns. He also ran for 37 yards and two touchdowns on eight carries.