Twenty Tullahoma Middle School athletes were named state medalists this past Saturday in Clarksville as East and West Middle schools combined to bring home a total of 32 medals at the TMSAA State Championships.
West Middle School's DeAndre Jenkins and Xavier Farrell and East's Andrew Ewing led the field for Tullahoma, each garnering three medals. In order to place at the state championships at Austin Peay State University, competitors needed to finish inside the top eight of their respective events.
Jenkins left Saturday as a two-time state champion, capturing the top spot in both of his individual competitions. The West eighth-grader took first place in the high jump before he followed with a state title in the 400-meter dash.
In the high jump, Jenkins was able to clear 5 feet, 8 inches. Lenoir City's Ben Noble also finished at 5-8, but Jenkins received less due to failed attempts during the event. While Jenkins took the top spot in the high jump, East's Lucas Willette also placed in the competition and took eighth after he cleared 4-10.
Later in the day, Jenkins won the 400 dash by nearly a second after racing in with a time of 55.51 seconds. Jacksboro's Landon York took second place after finishing at 56.41.
Before his day wrapped up, Jenkins teamed with Farrell, Bryceton Bunch and Kirk Tipps to take sixth in the 4x400 relay. The Bobcat team finished with a time of 4:08.64. Jefferson's squad took the top spot with an overall time of 4:03.37.
Before the 4x400, Farrell had already received two state medals, after he finished eighth in both the discus throw and shot put. Farrell got his day started with the shot put and hurled a distance of 34-08.75. First place went to Alcoa's Isaiah Emert at 42-1.
Farrell followed by taking part in the discus, where he threw 82-9. Emert also took first place in that event at 135-4.
Jenkins wasn't the lone Tullahoma athlete to take first at state, as East Middle School's Ewing, Willette, Andrew Carmack and Logan Prosser combined to nab the top spot in the 4x100 relay. The Panther squad was able to edge Jefferson's team by .23 seconds, after clocking in with a time of 48.27. Jefferson's second-place team finished at 48.50.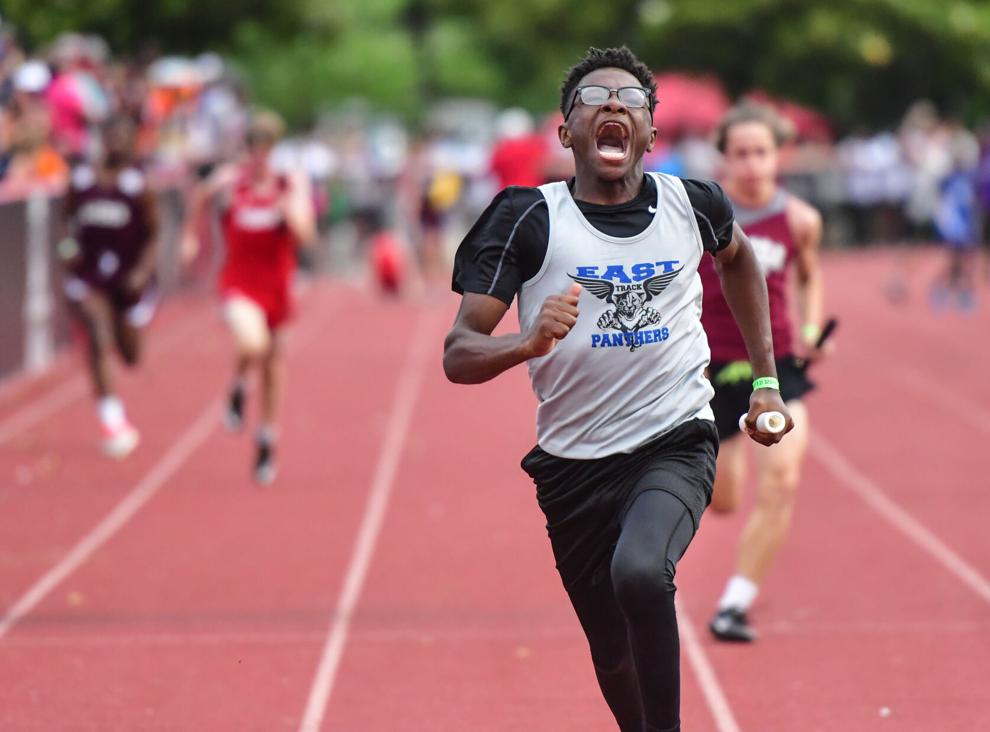 Ewing, Carmack, Brennin Hutchings and Khani Johnson also teamed to take second place in the 4x200 relay. The Panthers combined to clock in at 1:45.86, while Jefferson was able to garner the victory at 1:42.19.
Individually, Ewing later took second place in the 200 dash after he finished with a time of 24.08. Hamilton's Jeremiah Patton took the top spot at 23.94.
Prosser garnered the first of his two medals for East earlier in the day after he took fourth place in the long jump. Prosser was able to leap 16-11 in that event. Lenoir City's Noble took first at 18-9.
West's Bunch won the first of his two medals in an individual event after he finished fourth in the 800 run. Bunch clocked in at 2:21.04. Surgoinsville's Roman Borghetti-Metz took first overall at 2:15.12.
In the team standings, East took third place overall out of 37 teams competing in the boys standings, after the Panthers finished with 32 points. West tied for fourth at 30 points with Surgoinsville. Alcoa took first place overall at 62 points, while Jefferson finished second at 49 points.
On the girls' side, East saw both Israel Hovater and Brindley Duncan bring home two state medals on the day. Hovater took third place in the discus and seventh place in the shot put, while Duncan finished fifth in the 1,600 run, before teaming to run the 4x400 relay.
Hovater got her day started with the shot put, where she hurled a distance of 29-4.5. Her teammate Karah Lawrence also placed in the event at 28-8. First place went to Oakhaven's Tamya Moore, who finished at 34-2.
In the discus throw, Hovater took third after tossing 76-7. Lamar's Autumn Wynn won that event at 82-4.
During the 1,600 run, Duncan was able to finish in fifth place after finishing her mile run at 5:53.93. Alcoa's Kacey Holliday took first place overall at 5:43.75.
In the 4x400 relay, Duncan teamed with Lexi Lester, Claire Fogarty and Kanora McGee to take eighth overall in that race. The Lady Panther team clocked in with a time of 4:51.67. Fort Loudoun's squad finished first at 4:28.48.
West also had a girls relay team place, as the Lady Bobcat 4x200 relay squad took seventh overall at state. Emerald Tillman, Lilly Villamar, Avery Sisk and Lillian Call teamed to finish that race with a time of 2:00.13. Millington's team placed first at 1:52.18.
As a team, the East Middle School girls took 14th out of 34 teams competing with an overall score of 14 points. West finished tied for 30th with two points. Alcoa won the team state title with 59 points.