Competing at the national level, Tullahoma native Levi Dykes left Hagerstown, Maryland, with a pair of silver medals during the USA Cycling Amateur Road National Championship last month.
Levi competed in the men's junior 13-14 year-old division. He first took second place in the individual time trial on June 20, before nabbing a second-place effort in the road race on June 22. Levi closed out his nationals with a 14th place effort in the criterium race on June 23.
"People in bike racing know that the nationals are no joke," Levi said. "If you're not at the top of the game, you don't have a chance. The best cyclists in our nation come to nationals to prove that they are the fastest … If you don't go real fast and know how to handle your bike, you won't be in the game at nationals."
During the time trials, Levi raced alongside 41 competitors in the 6.8-mile race. With a time of 16 minutes and 8.66 seconds, Levi took second place in the time trial. First place went to Brighton Johnson, from Cave Creek, Arizona, who clocked in at 15:58.35. Wesley Haggstrom, from Clemmons, North Carolina, rounded out the top three competitors at 16:13.46.
"I started with a strong, short sprint down a ramp and then I got into the most aerodynamic position I could," Levi said. "For the first half of the effort, I watched my wattage output and my heartrate to make sure I stay in the range I can sustain without blowing up. For the second half, I didn't even look at my numbers - I just focused on holding my position and ignoring the pain.
 "My average heart rate was 197 beats per minute," he added. "My maximum heart rate over the finish line was 212 beats per minute, which is pretty high. A minute or two after I crossed the finish line, I had to vomit in the grass. I knew I did the best I could do. I was so happy with second place. When I stood on the podium that night and got that silver medal, I knew I had a chance in the road race, too."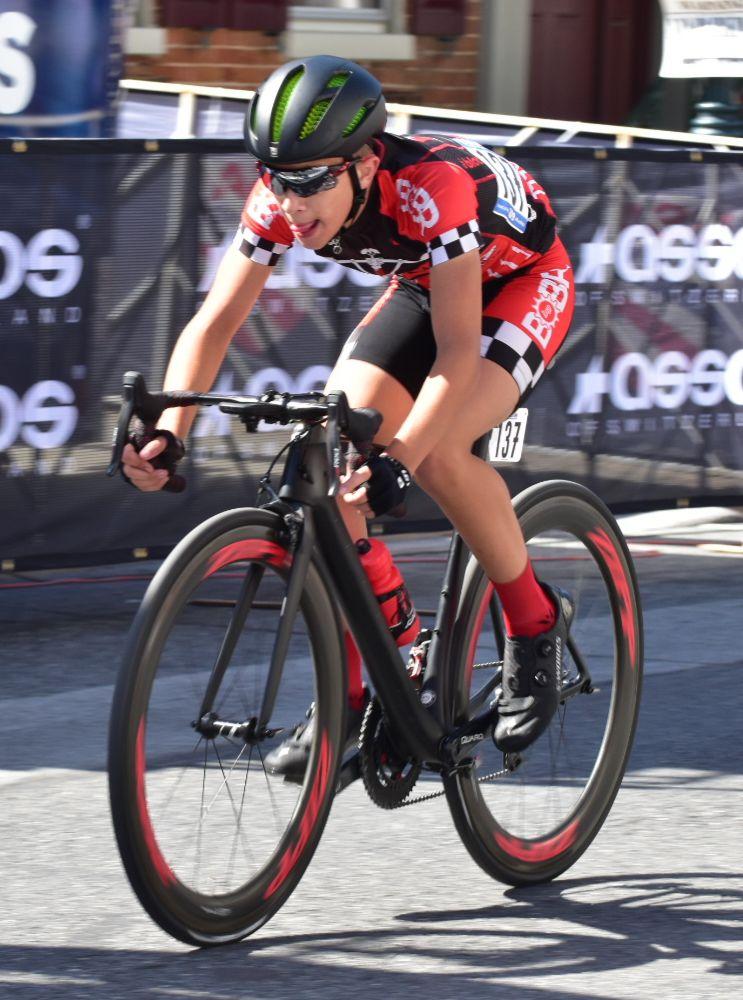 Two days later, Levi took second place again, this time in the road race, facing 44 other opponents. The Tullahoma native finished his race with a time of 42 minutes and 19 seconds. Haggstrom took first place overall, while Johnson rounded out the top three competitors.
The road race consisted of four laps, each at 7 kilometers, for a distance of 17.4 miles. During the race, competitors were led by a caravan of support vehicles, which included two police cars in front, a lead car, two race officials and an ambulance that trailed the racers. Spectators also lined the course and gathered at the finish line to catch the action.
According to Levi, the toughest part of the race was just over midway through the competition. Even still, he found a way to overcome that obstacle.
"The climb on the third lap was so tough," Levi said. "I had put in some really big efforts and the pace was so fast. We were averaging around 25 miles per hour and I was nearly at my limit. The stronger guys were trying their attacks and it was all I could do to stay with the front group."
From that point on, Levi said he needed to change his style a bit if he wanted to finish the race. That was until near the end, when he made one final dash toward the finish line.
"I tried to play it smart for the remaining three laps, sheltering near the front," he said. "There were 15 racers who were together in a sprint for the win. I took an outside line to avoid crashes and threw my bike for a close second-place finish. I was barely able to comprehend what had happened at the end. It took several hours for it to settle in, then I was so excited."
Levi ended his nationals run with a 14th place effort out of 38 total racers in the criterium. Levi finished with a total time of 29 minutes and 53 seconds.
Jayden Li, from Fresh Meadows, New York, took first place overall with a time of 29:51. Haggstrom took second place in the same race, while Johnson rounded out the top three competitors.
While he's definitely celebrating his two silver medals, there is no rest of Levi, as he gets set to take part in the Tennessee State Championship Road Race later this month. Last year, Levi won the state championship and said he's excited to be defending his title on June 27 in Sparta.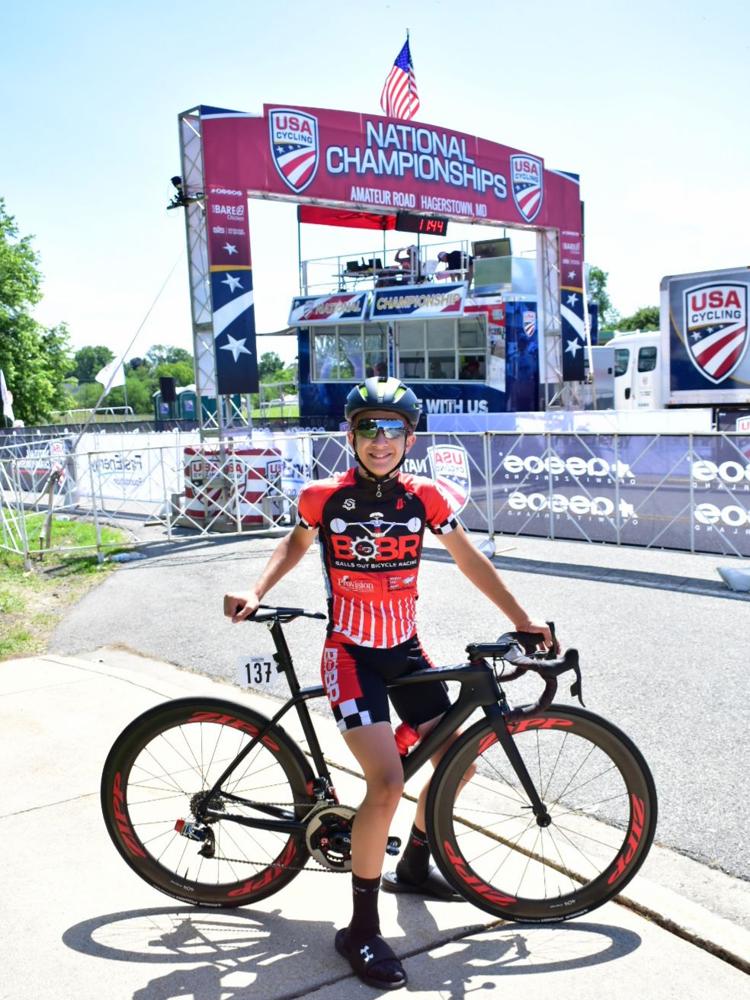 "There is definitely a target on my back, literally," he said. "I will be wearing the Tennessee State Championship Road Race jersey for the race this year. I remember wanting that jersey so badly. I know that somebody else wants it just as bad."
For Levi, training for cycling season is a year-round thing. For the national competition, he said he spent nearly two years training for that competition, riding for an average of 10-12 hours per week.
"I train in the gym to strengthen my core and gain sprinting power in my legs. Sometimes when school is in session, I get up to train on the indoor trainer at 4 a.m. so I can get a workout in before school starts. There is no 'off-season.' I train year-round. Me and my Dad plan my meals, my sleep, and my social life around my training. It works out good. I love training."
"I think most people don't realize how much time, pain, and effort it takes to be competitive in this sport," he added. "People that don't race bicycles see my silver medals and think I just went to a bike race and brought home some bling. It's not like that. There are no participation medals in bicycle racing. It's a big fight with blood, sweat, and tears, and it starts long before the big race."
While he'll be trying to defend his state title, Levi said he does have at least one other ride planned this fall. In October, he and his dad, MicaJon, will be competing in a Greenville, South Carolina, ride.
"Each year I look forward to the Hincapie Gran Fondo in Greenville ... It's 80 miles of race-paced riding with thousands of riders," Levi said. "There are three big climbs that I really enjoy and also dread. I keep completing the course faster and faster each year I try it. There's a big party after the race where I always get to visit with friends. It's so fun."