Two former Tullahoma High School golfers got a unique opportunity on May 19, as Jacob Uehlein and Ashley Gilliam were selected to participate in the 27th Annual Vinny Pro-Celebrity-Junior Golf Invitational.
The yearly golf tournament is hosted by country singer Vince Gill and took place at The Golf Club of Tennessee in Nashville. With a plethora of celebrities taking part in golfing, the tournament also aims to benefit youth, raising more than $8 million over the course of its 27-year existence for youth golfers in the state.
Golfing took place on May 19 and 20, with the first day of the tournament designated as celebrity-junior-amateur day. During that opening day, a celebrity, junior and four amateurs team up. Uehlein was lucky enough to be paired with Gill himself during the tournament.
"The Vinny was a once in a lifetime experience," Uehlein said. "Not only did I get to play a great golf course with a bunch of celebrities, the tournament also raises money for kids to be able to play golf," Jacob said. "Playing with Vince Gill was an unforgettable experience. He shared many stories about his career and it was thrilling to see what he had to say. He is also a great golfer."
While Uehlein was taking in his first time playing in "The Vinny," this was Gilliam's second time participating in the tournament. Both Uehlein and Gilliam graduated from Tullahoma High School on May 17.
"It is such a well-run tournament and it was really cool to be a part of it," Gilliam said. "It was my second time and it just keeps growing each year and knowing that it supports junior golf makes it great to be a part of. The golf is great, anytime you get to play at The Golf Club of Tennessee is fun, and then you get a concert afterward, which makes it a special day."
Both Gilliam and Uehlein were selected to play based on previous performances. Gilliam received her invite after being named the MVP of the East Team during the Tennessee Junior Cup. Uehlein was able to make it to the tournament due to his rankings in the Tennessee Junior Golf Association.
Following taking part in Gill's tournament, both Uehlein and Gilliam plan to stay active on the course this summer, before heading off to their respective colleges. Uehlein signed his letter of intent to continue his career at UT-Martin, while Gilliam will head to Mississippi State.
"This summer I plan to play in the Tennessee Junior Am, the State Four-ball, the State Match Play and, if I qualify, The State Amateur," Uehlein said.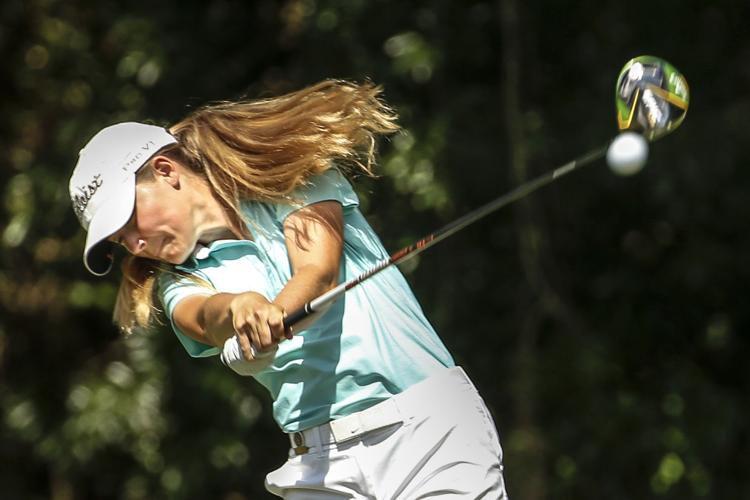 Gilliam has already had a busy May, previously taking part in the U.S. Women's Amateur Four-Ball Championship. Gilliam and her partner, Caroline Curtis (Virginia), made it to the quarterfinals of the tournament on May 1. The duo combined for a score of 69 throughout the five-day effort, finishing three under par.
Gilliam is going to take time off before picking up the pace in late June.
"My next tournament will be the Polo Golf Junior Classic in New Jersey the last week in June and then I have the Women's Western Amateur, the U.S. Girls and the Ladies International Amateur in July," Gilliam said.
While both are looking ahead to enjoying the summer, Uehlein and Gilliam are excited to get their college careers started.
"I love that [UT-Martin] is in a small town and how close everyone on campus is," Uehlein said. "The golf facility is one of the best I have seen with state of the art technology in it. Along with that, it is a great agricultural school and I plan on majoring in Agricultural Business."
Gilliam said she can't wait to get down to Starkville, Mississippi.
"Just the whole package of great facilities to practice on and having two great courses to play and practice on [were draws]," Gilliam said. "Our home course is hosting the U.S. Women's Amateur this August. I just really like the coaches and the school and the family aspect of the whole athletic department."