A basketball fanatic, Tullahoma High School graduate J.D. Crabtree set forth to create a project that shares his love of the sport, while also honoring one of his former coaches.
For the last six years, Crabtree has been traveling and searching for basketball goals across the world that tells an individual story. He turned that into book, titled "We Will Not Fade Away", which was published a couple of years ago with the help of the International Center of Photography in New York City.
That book was strictly visual. Crabtree has been adding to that, and will soon release a second edition which will feature more content and a redesign that includes roughly 180 pages.
"[The first edition] was a much smaller production than this edition, but I did have a chance to display it at a few photography events in Chicago and New York," Crabtree said. "I knew I wanted to make a much larger, more collaborative book, so this was a great stepping stone to what I am trying to accomplish today."
The book will be dedicated to Crabtree's former coach, Jeff Taylor. In December of 2016, Taylor died after lengthy battle with cancer. He spent 11 years in charge of the THS boys' basketball program, departing Tullahoma in 2012 in order to return to the sidelines at his alma mater, Franklin County.
According to Crabtree, Taylor's impact on him didn't just span to the court. Taylor's former player said that the coach would preach working hard on the court, which Crabtree said affected other parts of his life.
"He helped emphasize a variety of things that create a foundation so you can go out and achieve larger goals and aspirations," Crabtree said. "His emphasis on constant improvement and effort is an eternal gift."
Taylor's final season in Tullahoma was in 2012, a year that saw the Wildcats win the District 8-AAA Tournament Championship, the school's first in 33 years. However, Taylor saw his time limited on the bench as he battled cancer. He did return late in the season after the disease was thought to be have been in remission.
However, the cancer returned while Taylor was coaching at Franklin County, causing him to miss the majority of the 2015-16 season. He did not coach at all in 2016.
In his time spent as a player and coach, Taylor was described as hard-nosed, unafraid and somebody who loved the game of basketball. According to Crabtree, Taylor was a fighter to the very end as he battled the disease. Because of that, the former Wildcat said he wanted to do something to honor his coach.
"He never lost that battle in my mind," Crabtree. "Even when his body failed, when he couldn't stand or walk, he kept his mind strong. He began to search for an even deeper understanding. He began to reference how basketball was 'The Landscape,' this platform he was able to use to impact the world. He believed it was an extension of him, a tool to help him complete his purpose. And he absolutely won in that regard."
Even prior to Taylor's death, Crabtree had been working on telling the stories of unique basketball goals across the world. However, once Taylor passed, Crabtree said he knew he wanted to dedicate the project to somebody who loved basketball as much himself.
"I believe basketball is one of the few equalizers in today's world," Crabtree said. "With so many socioeconomic and political factors that exist that can divide people, basketball has become a way for common bonds to form over the purity of the sport."
On his search, Crabtree said there are several factors that he is looking for. According to him, he's driven across states, jumping fences and alleyways on his search for one that shares a unique story.
"I try to find goals and courts that have a deep sense of character," Crabtree said. "Maybe there's wear and tear, maybe it's in an unorthodox location or maybe there's added design or artwork on it. In regards to each goal's story the decision to include the photo always funnels up to whether or not it is helping tell the holistic story of basketball.
"I find them all fascinating, whether it be driving through Iowa and finding hoops nailed to the back of barns or seeing makeshift goals behind cafes in Europe. They all have their way of expressing that particular community's background, recreation and ultimately aspirations."
This edition of "We Will Not Fade Away" will be printed by Conveyor Studio, which also helped with the first volume. Crabtree will also have a premier artist working on the cover, as Elias Stein is helping with the project. Stein has worked with ESPN, Disney and multiple NBA teams on his artwork.
"I was a bit star-struck when he agreed to design parts of the book," Crabtree said. "Elias is one of the top sports designers/creatives in the game right now. I love that he has created his own aesthetic that sports fans recognize and admire. He has the first edition so he is aware of what we are trying to accomplish. It is going to be another masterpiece."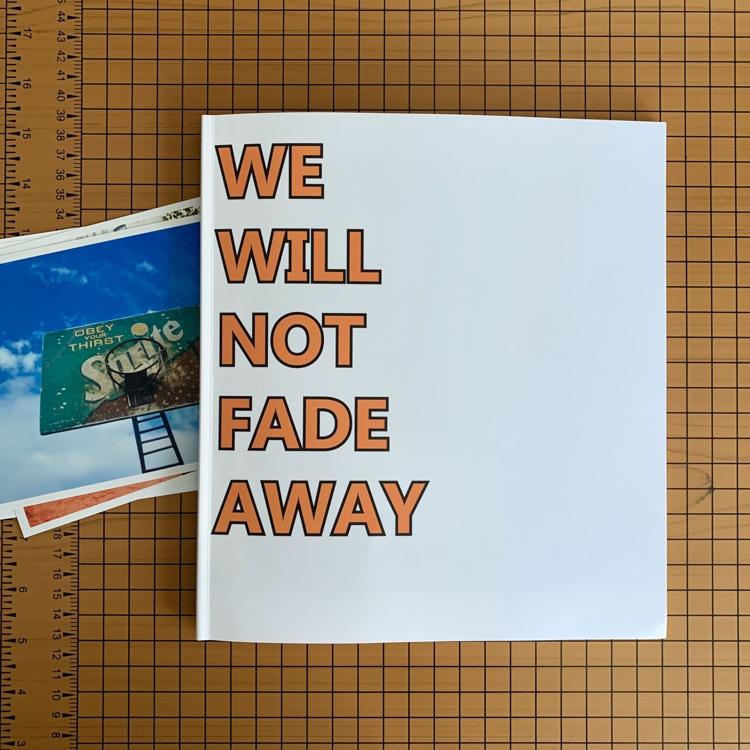 The remainder of the funds and revenue, which is estimated at 50 percent, will go toward Project Backboard. The purpose of Project Backboard is dedicated to turning public basketball courts into works of art for the community.
"My favorite aspect, perhaps theme, of Project Backboard is its intersection of athletics and art," Crabtree said. "As a life-long athlete, there are times when you are made to believe those are two polarizing activities. You know, why paint when you could be in the weight room or gym? Project Backboard is helping bridge this gap by introducing art as a way of athletic expression that compliments the traditional expectations."
Currently, Crabtree has started a fundraiser on Kickstarter, which is to raise money for Project Backboard. So far the project has raised $4,257 of its $10,000 goal. Deadline for fundraising is set for Dec. 12, which is the anniversary of the day that Taylor died.
According to Crabtree, that deadline wasn't done intentionally. However, looking at it now, he sees it as "A Fate or destiny thing now."
Those who wish to donate, can do so by logging into Kickstarter and searching for We Will Not Fade Away: Second Edition.