West gained the early edge during Saturday's Central Tennessee Conference Championship Game, but the Bobcats had to hang on in order to secure the title with a 43-29 win over East in Shelbyville.
Heading into halftime, West led 25-6. By the end of the third quarter, East had cut the Bobcats' lead down to 12 points and trailed 34-22 heading into the final period of play.
The Panthers netted the first four points of the fourth quarter to cut their deficit down to eight points. With 4:51 remaining in the contest, Keegan Taylor knocked down a jumper to make the score 34-26.
However, West was able to outscore the Panthers 9-3 the remainder of the contest to seal the victory.
"First I just want to say that East showed a lot of character," said Bobcats' Head Coach Frank Cole. "I was really happy for [East Coach] A.J. [Anthony Johnson] and his guys, they played great. When they kicked us in the mouth, we needed to regather ourselves. We got out of kilter, and that's to East's credit. That's the truth, they kicked us back and we had to respond and we did."
The Bobcats finished the year with an 18-1 overall record, including winning the regular-season CTC Title. This is the second-straight year that West has won the CTC Tournament after winning at Warren County in 2020.
"It says a lot that we were able to do this, and it says a lot about our administration and [Principal] Cindy Herrera. I think it's important to highlight what she does in providing us that avenue," Cole said. "The parents supported everything and the kids stayed committed. That's the main thing, the kids stayed focused and they committed to our expectations of West basketball."
East netted the first points during Saturday's matchup after Tre Palmer hit a basket with 4:12 left in the opening period. West guards DeAndre Jenkins and Xavier Farrell took control of the remainder of the first quarter. The Bobcat duo combined to give their team an 11-2 lead heading into the second quarter.
Both Jenkins and Farrell stayed hot and combined for another 11 points early in the second period. Jenkins scored five points, while Farrell added a pair of 3-pointers to give West a 22-2 advantage with 4:16 left before halftime.
Caden Finchum added another bucket for West, while Ryan Denby hit a free throw to put the Bobcats in front 25-6 at halftime.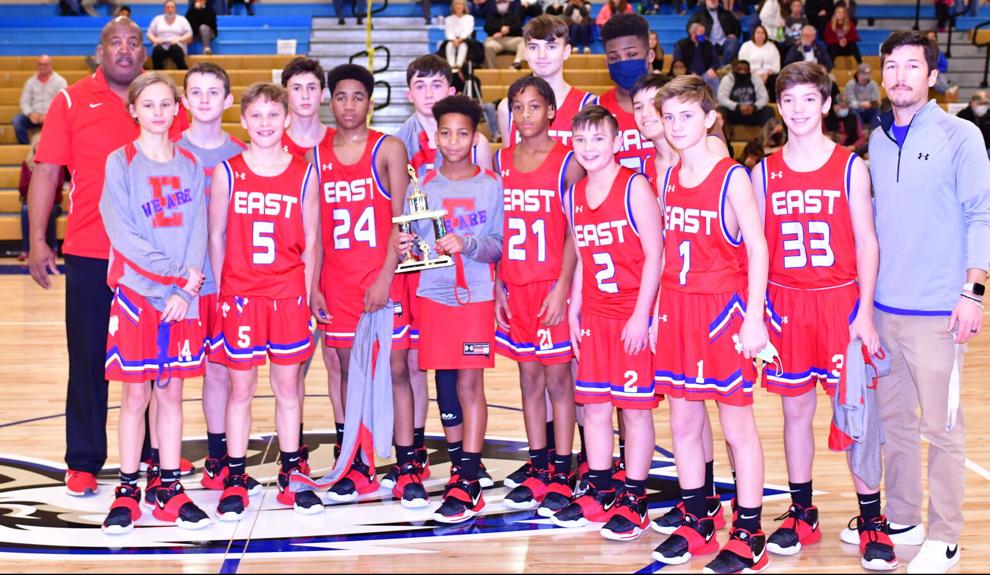 Farrell and Denby each hit an early basket for the Bobcats to start the second half. East countered though with eight points to trim its deficit to 29-14 with 3:12 left in the third period. Taylor and Logan Prosser each scored three points for the Panthers during that run, while Khani Johnson added a basket.
West added five more points in the third quarter, as Farrell knocked down a 3-pointer and Justis Haggard hit a pair of free throws. However, East added another eight points and trailed 34-22 at the end of the period. Alex Bobo netted four of those points, while Prosser and Palmer each scored two points.
Taylor hit back-to-back baskets for the Panthers to cut the score down to 34-26 early in the fourth quarter. However, Jenkins and Haggard dominated the remainder of the contest to help West notch the win. Jenkins put up five points in the final period, while Haggard added four points.
Jenkins led both teams in scoring on the night as he put up 19 points for the Bobcats. Farrell also added double figures for West as he finished with 11 points.
"DeAndre and Xavier are both two-year starters for us and have a combined record of 37-4," Cole said. "Those are two guys with a lot of character, and when you have that talent and that character, you have a chance to be special."
Haggard finished his night with six points for West, while Denby put up five points. Finchum rounded out the scoring for the Bobcats with five points.
Prosser and Taylor both lead East with seven points, while Palmer scored six points. Alex Bobo netted five points for the Panthers, while Sam Bobo and Johnson each added two points.