Tullahoma got after Franklin County early and often, jumping out to a 20-0 first-quarter lead, before going on to dominate in a 47-14 home win on Friday night.
As it has all season, the Wildcats' defense set the tone again on Friday night. Tullahoma forced Franklin County into turning the ball over seven times, intercepting four passes, while recovering three fumbles.
"I think overall that we played pretty well," said THS Head Coach John Olive. "They helped us a little bit. Our defense got some turnovers, but there were a couple of those plays that were just good interceptions and fumble recoveries… It makes such a big difference when you get turnovers and gives you short fields."
Wildcats' cornerback Quintin Howard had three of those turnovers by himself, and just missed blocking a punt in the third quarter. Howard recovered a fumble early in the first quarter, before intercepting two passes.
"Quintin has been a model of how to mature into a senior leader," Olive said. "He had a great preseason and he has played well in all four games. He is an encourager to his teammates. If we could be in season all year round, Quintin would probably be an All-America. We are proud of Quintin. He has been one of the most vocal leaders that we have on this football team."
It was Howard who allowed the Wildcats to gain great field possession on its first offensive drive. The Rebels received the ball to start the game, but quarterback Isaiah Sisk fumbled, and Howard recovered, and Tullahoma took over on the Franklin County 45-yard line.
Three plays later, the Wildcats found the end zone for the first time on the night. Quarterback Ben Fulton hit Hunter Jewell for a 29-yard touchdown pass with 9:49 remaining in the first quarter. Matt Marcel connected on the extra-point kick, giving Tullahoma a 7-0 advantage.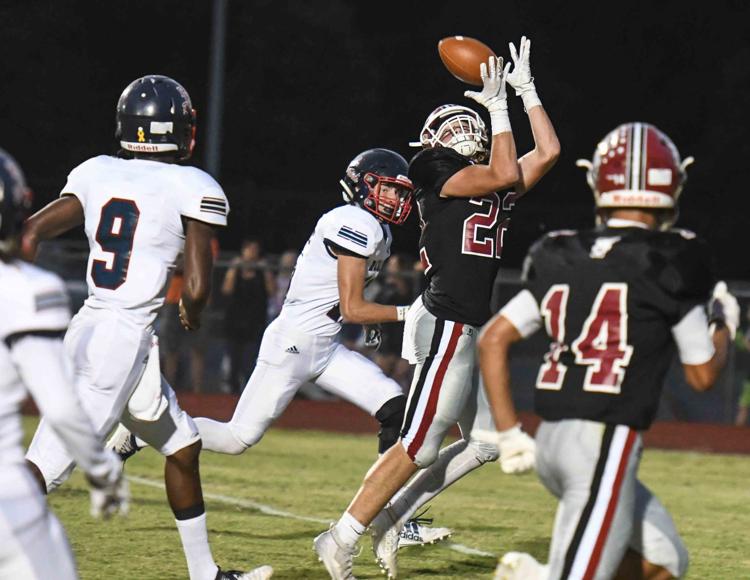 Franklin County coughed up the football on the ensuing kickoff after not being able to gain control of the ball. Jacob Dixon took advantage, recovering the ball for Tullahoma at the Rebels' 9-yard line.
One play later, Wildcats' running back Brian Nelms scored his first touchdown of the season. Nelms was able to break free for the 9-yard score with 9:38 left in the first period. Marcel would miss the extra-point attempt, and Tullahoma led 13-0.
The Wildcats added one more touchdown before the first quarter ended. This time Fulton rushed for a touchdown, scoring on a quarterback keeper with 26 seconds remaining in the opening period. Marcel converted to put Tullahoma in front 20-0.
Franklin County wouldn't go away quietly though, scoring on a quick three-play drive. Sisk was able to hit Marquice Toliver for a 52-yard strike. Two plays later, Dakota Waggoner scored on a 1-yard touchdown run. The Rebels converted on the PAT attempt, cutting its deficit down to 20-7 with 11:13 remaining in the second quarter.
Tullahoma answered right back with a score on its next possession. Fulton used his legs, rushing for 48 yards on this drive alone, giving the Wildcats the ball the Rebels' 14-yard line. From there, Hunter Palmer got the handoff, scoring from 14 yards out. Marcel drilled the extra point, and Tullahoma led 27-7 with 5:18 remaining in the first half.
Neither team could score again in the first half, even though Tullahoma did get close. With four seconds left in the period, Fulton hit Jakobe Thomas on a short pass. Thomas was able to weave his way for a 32-yard gain, but was pushed out of bounds at the Wildcats' 3-yard line as time expired.
After the break, Franklin County cut into its deficit again, after starting with possession at the Wildcats' 30-yard line.  Two plays later, Waggoner rushed for his second score. After breaking free for a 29-yard gain, Waggoner followed with a 1-yard touchdown run, cutting Tullahoma's lead down to 27-14 with 8:04 remaining in the third quarter.
Five plays later, the Wildcats took total control of the game with another score. Running back Devlon McGee broke loose for a 42-yard run, that gave Tullahoma possession at the Rebels' 2-yard line. Two plays later, Fulton held on to the football, rushing for a 2-yard touchdown.
The Wildcats elected to go for a 2-point conversion on the play, but were unsuccessful, and they led 33-14 with 5:43 left in the third quarter.
Howard came away with his second turnover on the Rebel's next offensive possession. Howard was able to pick off a pass from Franklin County quarterback Keandre Johnson, giving the Wildcats possession at their 40-yard line.
After losing a yard on first down, Tullahoma found pay dirt on a big play. Fulton hit Thomas on a short pass, and the Wildcats' wide receiver was able to break down the left sideline for a 61-yard touchdown with 3:54 remaining in the third period. Justus Chadwick knocked in the extra point attempt for Tullahoma, giving his team a 40-14 advantage.
Fulton completed 11 of his 17 passes on the night for 201 yards and a pair of touchdowns. Thomas had three catches for 104 receiving yards and his score. Jewell added 58 receiving yards on four catches and a score, while Palmer added four receptions for 39 yards.
Late in the fourth quarter, the Wildcats added one more score. This time, backup quarterback Ryan Scott was able to hit Brody Melton on a 35-yard touchdown. Scott previously connected with Joe Duncan for a 34-yard gain earlier on the drive.
After Melton's scoring reception, Chadwick again converted on the extra point attempt for Tullahoma, making the score 47-14.
While forcing Franklin County into a plethora mistakes, Tullahoma's defense also held the Rebels to 259 yards on Friday. The majority of those yards came on the ground, as Franklin County ran for 161 yards, while passing for 98 yards.
Waggoner led the Rebels with 87 rushing yards and a pair of touchdowns on 16 carries.
The Wildcats totaled 452 yards in the win over Franklin County. Tullahoma passed for 263 yards, while rushing for 189 more yards.
Fulton was Tullahoma's leading rusher, running for 74 yards and a pair of touchdowns on nine carries. McGee added 51 yards on five attempts.
While Howard came away with two interceptions for Tullahoma, Palmer and Landon Foutch each added a pick. Howard, Dixon and Cayden Tucker each recovered a fumble for the Wildcats.
Tullahoma (2-2, 0-1) will step back into Region 4-4A play this week as they have to travel to Spring Hill on Friday for a 7 p.m. matchup. The Raiders (0-4, 0-1) are coming off of a 28-6 loss at Lincoln County on Friday.