As soon as the clock hit zero on Friday night, celebration erupted on Tullahoma's sidelines as the Wildcats clinched their first-ever Region 4-4A Title with a 29-14 victory over Nolensville.
There were plenty of handshakes, smiles and victorious roars from the Tullahoma bench. Even Tullahoma Head Coach John Olive couldn't escape the celebration. As Olive was walking off the field, he was met with a cold shower, as Tyreek Nard, Ian Poe and Brandon Painter all teamed to drench their head coach with a cooler full of water.
"I've actually warmed up some, but I was cold there for about two minutes," Olive laughed. "I think it's awesome what these players have been able to accomplish… This team has enough talent and they are a big physical team. We have a super kicker and punter. The offense has several weapons to attack you and we are a very good football team. If we have a little fortune, and stay healthy and keep the virus away, I think we have a shot at a very memorable season."
Tullahoma capitalized early against Nolensville and scored on its first three offensive possessions. Jakobe Thomas found the end zone three times in the first half and the Wildcats took a 22-0 lead into halftime.
Jaxon Sheffield added a third-quarter touchdown run for Tullahoma's final score. The Wildcats ran for 272 yards against Nolensville, led by Thomas who had 121 yards on 12 carries. Sheffield and KeiShawn Cummings each added 61 rushing yards.
"We had that 22-0 lead and Jaxon Sheffield makes a great run," Olive said. "The offensive line continues to just absolutely create seams for these running backs. I thought KeiShawn ran the ball hard tonight. Jakobe obviously was probably the best athlete on the field. Then Jaxon probably ran the ball as well as he has all year long."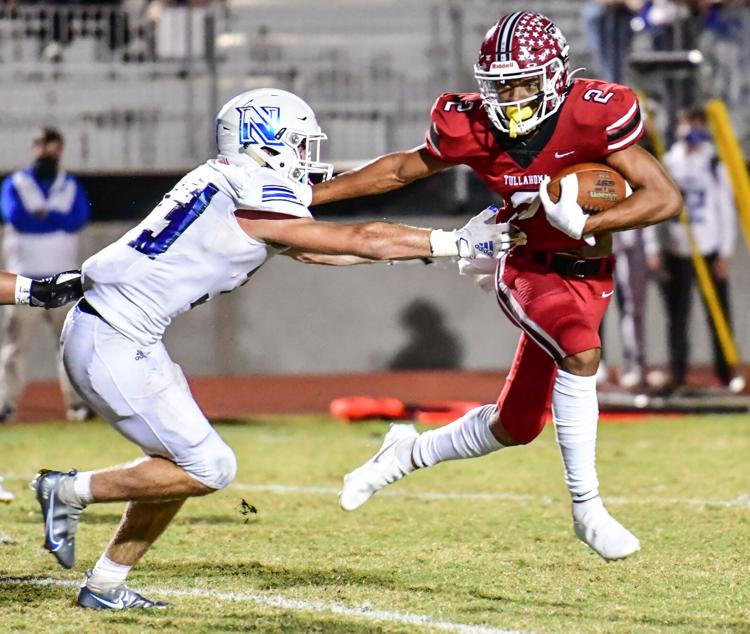 Thomas made his impact early on Tullahoma's first offensive possession, getting the ball three times and collecting 47 yards of offense. The senior had two carries for 25 yards, while adding a 22-yard reception.
"We wanted to get Jakobe and [quarterback] Ryan Scott into the flow of the game," Olive said. "We really felt like they would have a hard time tackling Jakobe. They actually did a good job of boxing him in, he actually reversed field on them a couple of times."
Thomas capped off the Wildcats' first drive with a 28-yard scoring run with 8:55 remaining in the first quarter. Justus Chadwick followed by making the extra-point attempt to give Tullahoma a 7-0 advantage.
"[The first touchdown] was very important because we felt like we needed to punch them right off the bat," Olive said. "We took the ball as we have about all season and we were able to punch it in there."
After forcing Nolensville to a quick three-and-out on its first offensive series, Tullahoma capitalized and added to its lead. This time, Thomas was able to punch the ball into the end zone from 3 yards out, capping off a Wildcats' 10-play drive.
Tullahoma elected to go for a 2-point conversion and converted. DJ Dillehay took the direct snap and scored to put his team in front 15-0 with 2:49 remaining in the first quarter.
Nolensville's offense was again stymied on its next possession. On fourth down, the Knights went for a pooch kick that was taken by quarterback Ryder Galardi. The punt was blocked and Tullahoma recovered at the Nolensville 41-yard line.
One play later, Thomas found the end zone for his final time on the night, rushing down the left side for the 41-yard touchdown. Chadwick once again knocked in the extra-point and the Wildcats led 22-0 with 11:04 left before halftime.
Tullahoma had a chance to add points when Will Partin intercepted a pass and his team gained possession at the Knights' 35-yard line. The Wildcats' drive stalled at the 17-yard line as Chadwick came in to attempt a 34-yard field goal try. However, the snap was bobbled on the kick attempt, and Chadwick was forced to throw the ball away.
Nolensville opened the second half with a 10-play, 85-yard touchdown drive to cut into its deficit. On a direct snap, Knights' running back Samson Johnson found the end zone from a yard out to make the score 22-7 with 8 minutes left in third quarter.
Less than four minutes later, Tullahoma added its final score of the game. Sheffield capped off six-play drive and broke several tackles on his way to rushing for a 28-yard touchdown with 4:34 remaining in the third period. Chadwick drilled the extra-point attempt to put Tullahoma up 29-7.
With 1:20 remaining in the ballgame, Nolensville added the final points. Johnson ran for his second touchdown, this time from 4 yards away, to make it a 29-14 contest.
Johnson ran the ball 17 times for 51 yards and a pair of touchdowns. Nolensville was held to 51 yards rushing, as Galardi added 11 yards on seven carries.
Behind center, Galardi completed 22 of his 37 pass attempts for 265 yards, but was intercepted twice. Chance Fitzgerald had six catches for 101 yards.
The Wildcats threw for 83 yards against Nolensville. Ryan Scott completed seven of his 11 passes. Three of those pass attempts were to Jacob Dixon who had 33 receiving yards.  
Following the win over Nolensville, Tullahoma (9-0, 4-0) will look to cap off its undefeated season as it hosts Maplewood this coming Friday.  Kickoff is scheduled for 7 p.m.