Despite outgaining Shelbyville in yardage, Tullahoma's offense struggled to put away drives on Thursday night, and the Wildcats dropped their season opener, losing 14-7 at Shelbyville.
With the score tied at 7 entering halftime, the Golden Eagles quickly took the lead early in the second half. A solid kickoff return gave Shelbyville possession at Tullahoma's 47-yard line. Five plays later, Golden Eagles' quarterback Kade Cunningham broke free for a 19-yard touchdown run, putting his team in front 14-7 with 9:59 remaining in the third quarter.
Tullahoma had its chances to even the score, marching down inside Shelbyville territory two more times. On the first attempt, which came midway through the third quarter, the Wildcats came up short and turned the ball over on downs at the Golden Eagles' 27-yard line.
In the fourth quarter, Tullahoma had put together an eight-play drive, marching down to Shelbyville's 31-yard line. On the next play, quarterback Ben Fulton connected with Hunter Jewell for a 12-yard gain. However, Jewell was hit and fumbled the ball, and Shelbyville took over from its 19-yard line.
"We just couldn't come away with points on either time and that's the difference in the game," said THS Head Coach John Olive. "They made the plays that they needed to make and we just didn't make as many as we needed to."
With 1:25 remaining in the contest, Tullahoma had one final possession to try to even the score, taking over at its 10-yard line. Fulton quickly hit Hunter Palmer for a quick 28-yard gain on the first play of the drive. On Fulton's second pass attempt, the Wildcats' quarterback was intercepted by Slayde Simmons, who ran the ball back to Tullahoma's 11-yard line.
From there, Shelbyville was able to kill the clock, kneeling the ball three-straight times. Cunningham finished his night, completing five of his 10 pass attempts for 59 yards, while rushing for 20 yards on 14 carries, including his game-winning touchdown run.
Simmons was responsible for the first score on Thursday night, coming with just over six minutes left in the second quarter. After Tullahoma was forced to punt the ball away, but that kick was blocked by Simmons, who scooped up the ball and returned it 20 yards for a Golden Eagles touchdown. The extra-point kick was made, as Shelbyville led 7-0 with 6:12 remaining in the first half.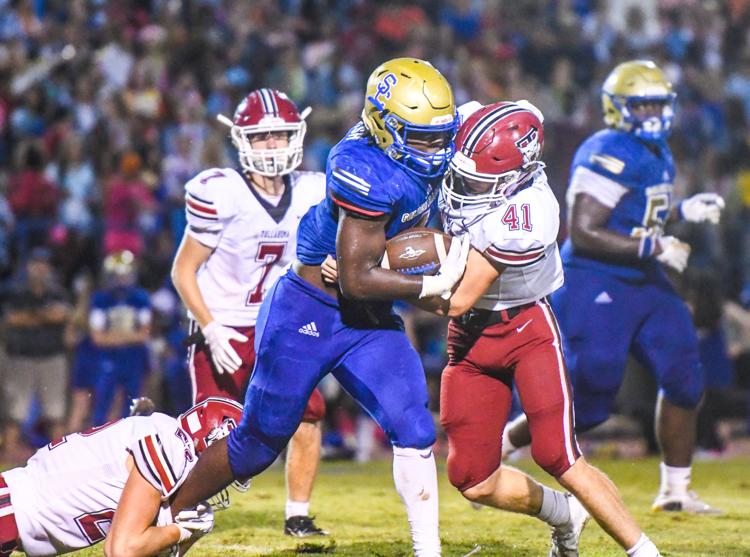 Two plays later, the Wildcats answered right back with its lone touchdown. On second-and-15, Fulton was able to connect with Palmer downfield, as the wide receiver broke free for the 70-yard touchdown. Justus Chadwick added the ensuing extra-point kick, evening the score at 7 with 5:16 left before halftime.
Fulton completed 18 of his 30 pass attempts on Friday night for 246 yards, while being intercepted once. Palmer had five of those catches for 108 yards and the lone score.
Jake Hollandsworth added 53 yards on five catches for the Wildcats. Jakobe Thomas also hauled in four catches for 48 yards.
As a team, the Wildcats put up 294 yards on the night, picking up just 47 yards on the ground. Brian Nelms was Tullahoma's leading rusher, running for 27 yards on eight carries. Devlon McGee added 23 yards on seven attempts.
"[Shelbyville's] defensive line was good," Olive said. "There were two players who we couldn't handle. The others who played there for them, played solid as well. We couldn't handle Gary Smith III and one of the other tackles. When they were both in there, they shut us down.
"Their linebackers ran everything down if we bounced it wide," he added. "We were hopeful that we would eventually wear them down and our offensive line would take charge and give us a chance. We could do sporadically, but we couldn't do it consistently."
Shelbyville totaled 211 yards in the victory, 152 of those coming on the ground. Caleb Marsh lead the Golden Eagles' rush attack, picking up 96 yards on 15 carries.
"I thought our defense played well and I thought they gave us a chance. That's what they did during the preseason and in the scrimmages. Our defense has been rather solid and I thought they were that way again tonight against a team that is really athletic… I'm proud of Coach [Coy] Sisk and the defensive staff. I thought we had a solid game plan and held in there with them."
Following Thursday's week one loss, Tullahoma will head to Coffee County this Friday night, in the annual battle for the Coffee Cup. Kickoff is slated for 7 p.m.