Tullahoma's annual Fan Feast scrimmage turned into an all-you-can-eat buffet for the Wildcats on Friday, as they devoured Warren County on their way to a 54-8 beat down of the Pioneers.
In total, the Wildcats racked up 580 yards against Warren County, reaching the end zone on eight separate trips. Tullahoma's defense was also stout, limiting the Pioneers to just 118 yards and forcing one turnover, an interception by Quintin Howard in the second quarter.
Quarterback Ben Fulton led the Wildcats with four passing touchdowns for 197 yards. After his first two passes fell to the ground, the junior went on to compete nine-straight attempts, including a streak that consisted of him throwing three consecutive touchdowns.
Briasen Corn got the scoring started for Tullahoma on Friday, rushing for a 37-yard touchdown with 4:56 remaining in the opening quarter. The senior tailback finished with 89 yards and his touchdown on five carries, an average of 17.8 yards per carry.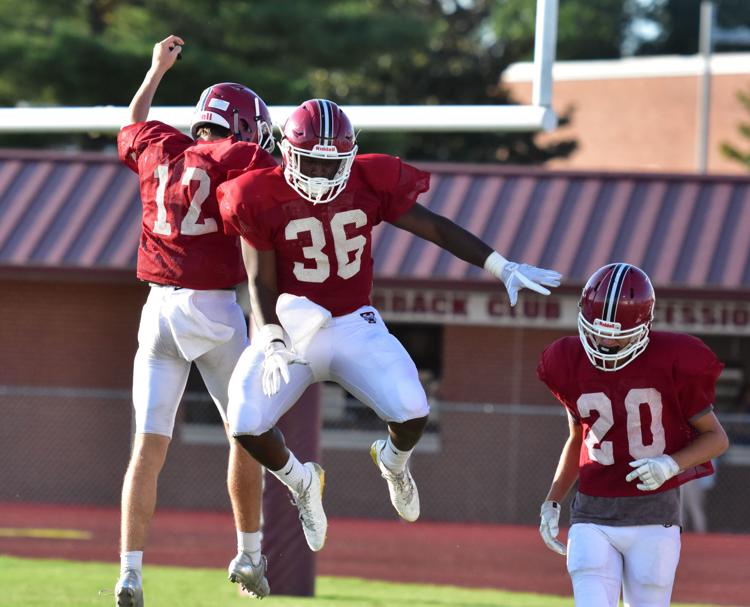 After Corn scored the opening touchdown, Will Stone came in and knocked in the point after touchdown (PAT) kick, putting Tullahoma in front 7-0. Stone went on to make all six of his PAT attempts on Friday.
Four plays after the Wildcats scored, Warren County pulled ahead with a quick touchdown drive. Clay Thompson reeled in a 37-yard diving catch, after the ball was initially deflected by a Tullahoma defender. Raven Lewandowski reached the end zone two plays later on a 4-yard scamper.
The Pioneers elected to go for a 2-point conversion, successfully making it, to take an 8-7 lead with 3:41 remaining in the opening period. C.J. Taylor scored for Warren County on the two-point play.
It was all Tullahoma from that point, as the Wildcats went on to score 47 unanswered points. Fulton helped put the Wildcats back in front with a 14-8 lead after hitting Jakobe Thomas for a 13-yard touchdown with 17 seconds left in the first quarter.
Fulton's next two passes went for touchdowns as well. After Corn rushed 11 yards on the Wildcats' next drive, Fulton connected with Matthew Ross for a 57-yard score. The THS quarterback then hit Hunter Jewell for a 45-yard strike, giving Tullahoma a 28-8 advantage.
Jewell added one more score for the Wildcats just before halftime. Fulton once again hit the junior wide receiver, this time for a 32-yard touchdown with 1:25 remaining in the first half.
Five plays into the second half, Tullahoma padded its lead. Taking over at quarterback, Payton Howard connected with Kobe Burks on a 29-yard touchdown with 9:57 remaining in the third quarter. Payton completed both of his pass attempts for 48 yards.
In the fourth quarter, the teams played with a 20-minute running clock. Each team's possessions in the final period, consisted of 10-play drives regardless of turnovers or scores. The Wildcats' defense suffocated Warren County's offense for 10-straight plays, forcing a loss of 7 yards on the drive.
Tullahoma took advantage on its possession, scoring twice, both on runs by quarterback Kyler Parker. The sophomore saw both of his pass attempts fall to the ground, but was able to rush for 83 yards and his pair of scores.
Parker first rushed for a 1-yard touchdown, which came right after the quarterback broke free for a 32-yard run. On the ensuing drive, Parker once again reached the end zone, this time from 29 yards away, making the score 54-8.
Following Friday's scrimmage, the Wildcats will close out the preseason with a trip to Columbia Central on Tuesday. Start time of that scrimmage is slated for 5 p.m.
Tullahoma will kick off the regular season on Thursday, Aug. 16, when the Wildcats host Shelbyville at 7 p.m.