As Tullahoma Head Coach John Olive got set to celebrate his birthday, his team helped make it that much more enjoyable, getting off to its best start in nearly a decade, after defeating Franklin County 27-14 in Winchester on Friday.
With the win over the Rebels, the Wildcats improved to 3-1 on the season – a feat they haven't accomplished since the 2010 season. Much like this season, in 2010, Tullahoma lost its season opener, but went on to reel off six-straight wins.
On Friday night in Winchester, Tullahoma got off to a hot start, grabbing a 21-0 lead early in the second quarter. However, Franklin County battled back, cutting the score to 21-14 late in the fourth quarter.
After an onside kick attempt was unsuccessful for the Rebels, Tullahoma took over possession at the Franklin County 48-yard line. One play later, the Wildcats essentially put the game away, as quarterback Ben Fulton connected with Matthew Ross for a 48-yard touchdown, making it a two-score game with 3:35 remaining in the contest.
"We thought that we had to get first downs. I'm thinking though, that if I'm their defense, I'm going crowd the line of scrimmage, thinking that we are going to hand the ball off to Briasen [Corn]," Olive said. "We had the same play earlier in the third quarter for a touchdown, we just missed him [Ross], and we threw it to somebody else. So, we went with it there in that situation and he was just as open there as he was in the third quarter."
Fulton completed 15 of his 19 pass attempts on the night for 235 yards and four touchdowns, while being intercepted once. Ross was the recipient of just two passes on the night, both of which went for scores, including the game-opening touchdown from 37 yards out.
Race Marin made two catches for 65 yards in the contest for Tullahoma, including a second-quarter touchdown that went for 61 yards. Jakobe Thomas brought in another touchdown catch for the Wildcats, scoring from 11 yards out.
Briasen Corn did the bulk of the work for the Wildcats, carrying the ball 24 times on the night for 144 yards. Fulton added 19 yards on four rushing attempts.
While the offense was rolling early against Franklin County, Tullahoma's defense was stout all night, surrendering 278 yards, with 131 of those coming in the first half. The Wildcats limited the Rebels to just 63 yards rushing on the night and 215 passing yards.
Franklin County quarterback Neyland Jean completed 16 of his 47 pass attempts on the night for 215 yards and a touchdown while being intercepted once. Jean was also the Rebels' leading rusher, collecting 51 yards and a touchdown on 10 carries.
"I thought our defense played really well against a really good offense," Olive said. "That's an offense that's hard to prepare for because Jean can throw it and he can run for it and they can go to that Wing-T formation in a heartbeat. They can run five or six plays in the Wing-T formation and then immediately go back to the spread."
After forcing Franklin County to punt on its opening possession on Friday, Tullahoma put together a quick six-play 84-yard touchdown drive to grab the early lead. Fulton connected with Ross for a 37-yard strike with 7:32 remaining in the opening quarter. However, Marin missed the point after touchdown (PAT) kick as Tullahoma held just a 6-0 advantage.
After a quick three-and-out for Franklin County, Tullahoma added to its lead with a 61-yard touchdown drive. This time, Fulton hit Thomas for an 11-yard touchdown with 3:55 left in the second quarter.
On the ensuing PAT kick attempt, Fulton couldn't handle the snap and was forced to throw the ball. After scrambling, Fulton hit Jake Hollandsworth in the end zone for the successful 2-point attempt, giving the Wildcats a 14-0 edge.
Tullahoma padded its lead even more with a quick four-play, 88-yard touchdown drive early in the second quarter. Fulton was able to hit Marin downfield for a strike, and the receiver raced down the left side of the field for the 61-yard score. Marin followed by making the PAT kick, giving the Wildcats a 21-0 lead with 9:45 remaining in the first half.
Just before halftime, Franklin County found a little bit of life, putting together a 90-yard touchdown drive. With 2:31 left in the second quarter, Jean hit Marquice Toliver for an 80-yard score, which cut the score to 21-7 at the break.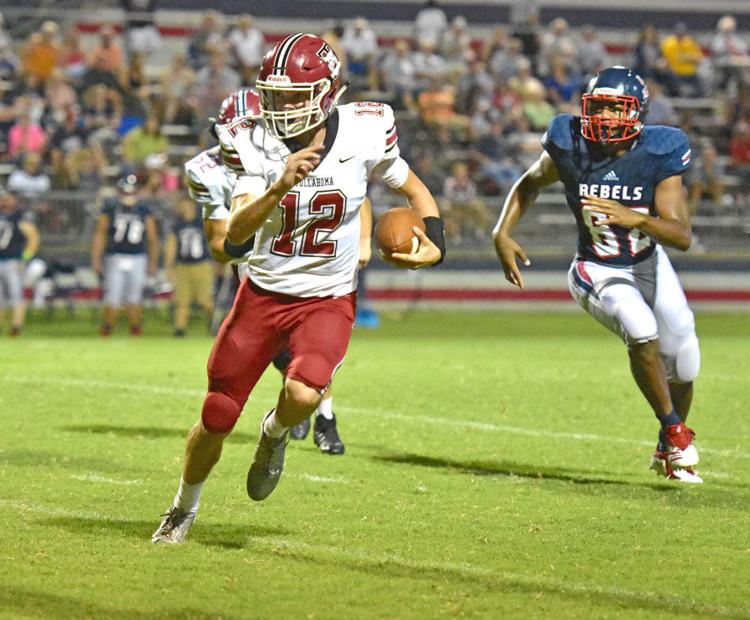 Neither team could put up points in the third quarter, but a 17-play drive that ate up nearly six minutes, pulled Franklin County within a touchdown. Jean was able to hold on to the ball on a quarterback keeper, plunging into the end zone from a yard out, as the Rebels cut the score to 21-14 with 3:48 remaining on the clock.
Thirteen seconds later, Tullahoma erased the possibility of a Franklin County comeback. After taking over at the Rebels' 48-yard line, Fulton hit Ross for a 48-yard touchdown. The PAT kick was bobbled and no good, but Tullahoma led 27-14 with 3:35 left in the contest.
Franklin County marched down to Tullahoma's 41-yard line on its next possession. However, the drive stalled, as the Wildcats took over from there and ran out the clock in the victory.
"It felt like [survival]," Olive said. "Franklin County kept battling and made a play here and there and really was just one or two plays away from taking control of the game. Hats off to our kids. They found a way to persevere and hang on to a tough win."
The head coach said his team's gritty win made a great birthday gift, albeit a day early. More importantly, he laughed, his family will be able to tolerate him a little bit better, thanks to the victory.
"It's a lot better to win and have a birthday than lose and have a birthday is all I'm going to tell you," Olive joked. "It's also a lot better for the family and them being around me for a birthday because I have to be present, and I'm a lot better off after a win than I am a loss."
Tullahoma (3-1, 1-0) will step back into Region 4-4A play on Friday night when it hosts Spring Hill at Wilkins Stadium. The Raiders (0-4, 0-1) are coming off of a 49-6 loss at Riverdale this past week. Kickoff for Friday nights' game in Tullahoma is scheduled for 7 p.m.