The high school golf season will be in full swing on Tuesday, and the Tullahoma High School teams are set to open their seasons this week.
Both THS teams are slated to open the season with a pair of matches against Franklin County. The Tullahoma teams will first head to the Bear Trace at Tims Ford for an 18-hole match against Franklin County on Tuesday at 1 p.m. THS is then scheduled to return to its home course of Lakewood Golf & Country Club on Thursday for a nine-hole matchup against the Rebels, beginning at 3:30 p.m.
As a team last year, the Wildcats just missed making it to their third-straight TSSAA State Tournament, finishing as runner-up at the Region 4 Tournament. However, three golfers did end up making it to state based on their individual performances. Hayden Blair, Jacob Uehlein and Ava Catherine Banks all represented Tullahoma at state.
All three of those veterans will be returning for Tullahoma this season and, according to their head coach, he's seen some positive things from his players this preseason.
"I can tell they've been really working hard in the offseason," said THS Head Coach Barry Bishop. "I can see a lot of changes in some of the young guys that are coming back as sophomores this year. Then, we've got a couple of young players that are coming in as freshmen that are fresh off winning the championship in middle school, so they're ready to play, so that'll be good."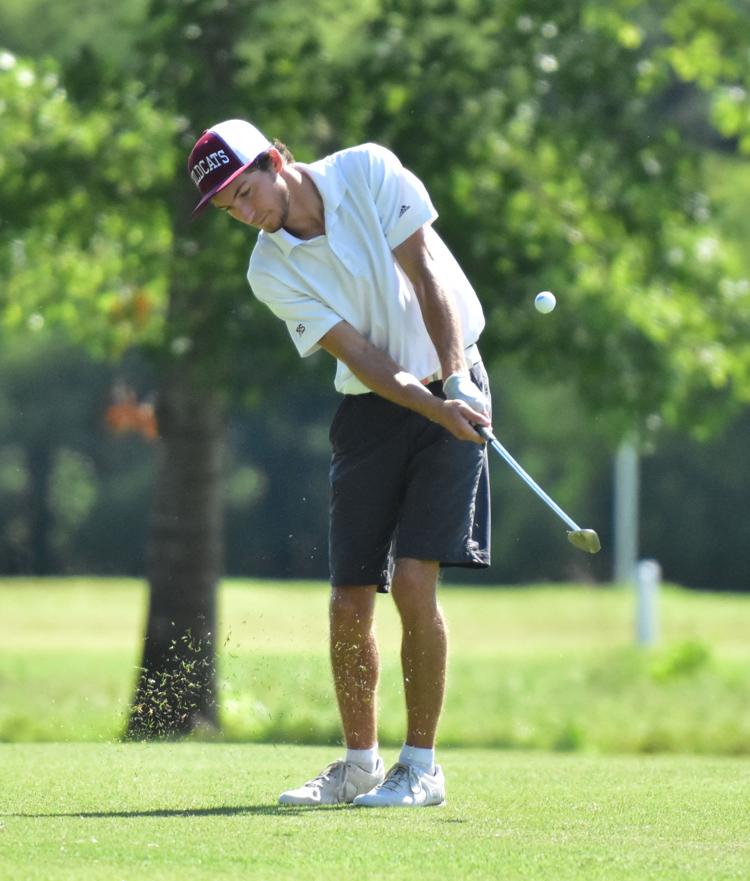 On the boys side, Bishop and Tullahoma will have a deep lineup this coming season. Blair and Uehlein are expected to be the top two golfers for the Wildcats.
At the state tournament last year, Uehlein led Tullahoma, finishing 17th overall after combining for a +6 during the two-day tournament in Manchester. Blair tied for 30th, putting up a +8 overall.
 "They bring a ton of experience to the team," Bishop said. "I'm really looking forward to them being able to interact with some of our younger players and really give them just a good example of what it takes to play at that high level of golf."
At the third spot, the Wildcats' coach said he expects Andrew Cardosi to fill that position. Last season, Cardosi was injured, missing all of the 2017 campaign. However, during the preseason, he's been able to fully participate for Tullahoma.
"He's gone through a lot of really extenuating rehab and so forth," Bishop said. "He brings a lot of skill to the team … I've talked to him several times through the summer and he's taken all the advice from the trainers … He's been out and played a couple of rounds with us, and shot probably his best round yesterday [Monday] in practice."
With the top three spots figured out, a battle for the fourth spot will be up for grabs, according to Bishop. He listed seven players who could fill that spot, noting that Mason TeVrucht, Jared TeVrucht, Reid Kemp, Sebastian Aguirre, Chase Wiley, Isaac Lynch and Colin Shuran could be integral parts to the Wildcats' success this season.
On the girls side, Tullahoma will be able to field a team for the first time in four seasons. Looking ahead to this year, Bishop was excited about the idea of not only being able to field a girls squad, but also having, "a quality team."
As a freshman last year, Banks was the lone THS girls player, and qualified for the state tournament. Banks went on to finish 39th overall in the girls two-day tournament.
 "That was a very pleasant surprise for all of us, in that I wanted her to get that experience, but I wasn't sure if she was going to be able to make it," Bishop said. "Sure enough, she played well, and then came in and had actually one of her best rounds of the season, the second day of the state tournament. That was really good."
One of the bigger additions this year, will be Manchester-native Ashley Gilliam joining the Lady Wildcats' squad. After transferring to Tullahoma last season, she was not eligible to play, forced to sit out her junior season.
The 16-year-old Mississippi State commit is widely considered one of the best high school golfers in the state. According to Bishop, she not only brings her skills to the team, but she has emerged as a leader for his squad.
 "I've been very proud of her in the way that she has kind of taken to some of our other players and has really helped them as far as preparing for events," Bishop said. "There's an open line of communication that I've heard them talking about, which I'm really proud that they're able to do that.
"Our younger players, that don't have quite that much experience, they're able to ask her questions and text her and things like that, and she'll talk to them about how to play different shots and different golf courses and things like that. I'm really looking forward to how she blends in and kind of helps them learn to see firsthand what it takes to be one of the best golfers."
Incoming freshman Mallory TeVrucht will also be joining the Lady Wildcats this year. According to Bishop, Mallory was a strong player for him last year at the middle school level and he looks forward to seeing what she can do at the high school level.
"She's probably playing, I think, better than I've ever see her play too," Bishop said. "I've coached her all the way through middle school. She's really coming on. She's taking it seriously and she's ready to play."
Heading into their first competition this week, Bishop said he's excited to see how his team performs. His focus will be seeing how his golfers stack up against competition. Additionally, with the team leading off the season with an 18-hole tournament, he's interested to how they see fare during that experience.
"The 18-hole matches are something that we end up playing a lot less of during the school year because of missing school and so forth," Bishop said. "It's good to be able to squeeze one of those in before school actually starts. I'm looking to see how they do on an 18-hole match all the way through, because that's where some of the conditioning and things like that and basically in golf, you're on your own, basically right up until the season starts.
"I'm interested to see how everybody is going to do and hold up. Do your legs hold up for you? Do you get a loose driver and things like that? Plus we're going to see what Franklin County's got. They're usually right there, kind of hovering around in the mix. It'll be interesting to see what kind of player situation that they end up having."