A run in the bottom half of the first inning was enough to lift the Tullahoma Little League 12U All-Stars to a 1-0 road win against Columbia in the District 8 Title Game on Wednesday night.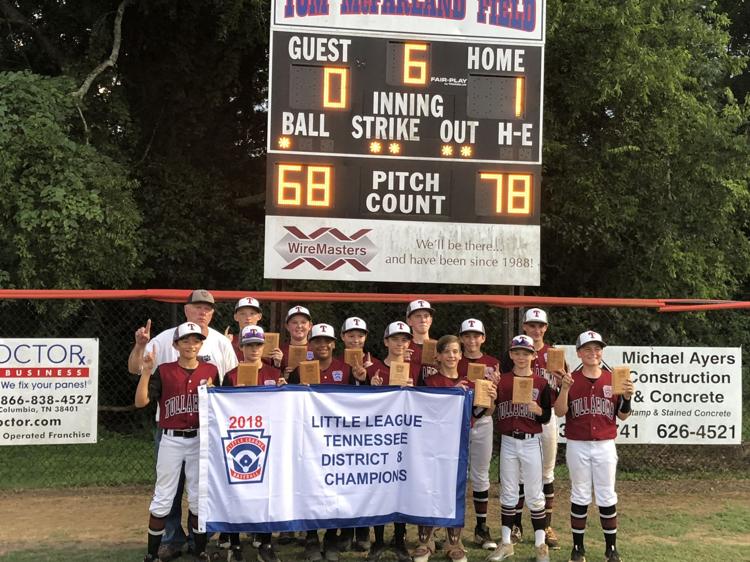 With the win, the local 12U team became the third Tullahoma Little League squad to earn a spot into its respective tournament. The Tennessee 10- to 12-year-old State Tournament is scheduled to open on July 21 in Morristown. As of press time, the date of Tullahoma's first game and the opponent were unknown.
On July 2, the Tullahoma 11U All-Stars were the first Tullahoma Little Leaguers to earn a spot in their state tournament. The Wildcats defeated Columbia 9-3, earning a spot into the Tennessee 9- through 11-year-old Tournament, which will take place on Saturday in Greeneville. Tullahoma will begin its tournament by facing Smith County on Saturday at 11 a.m.
The Tullahoma 8U Coach Pitch All-Stars became the second local Little League team to earn a state berth with a 14-0 win over Spring Hill on July 3. The Tennessee Coach Pitch Tournament will open on Sunday in Clarksville. Tullahoma will get the tournament started on Sunday, facing Lebanon at 2 p.m.
After retiring Columbia in order in the top of the first inning on Wednesday, the Tullahoma 12U Team scored its only run just two batters into the game. Faizon Snipes reached base for the Wildcats to start the bottom of the first inning and Evan Tomlin followed by tripling to right field, giving Tullahoma a 1-0 lead.
Tomlin also pitched the complete game for the Wildcats, not surrendering a run in six innings of work. Tomlin allowed just two hits while striking out 12 batters, and also collecting all three of Tullahoma's hits at the plate.
The Wildcats opened their tournament with a dominating 13-2 victory over Winchester in Columbia on Sunday. Tullahoma put up at least one run in every inning, ending in a five-inning run-rule win.
During that contest, Mason Bratcher and Snipes each drove in three runs for the Wildcats. In the top of the fifth inning, Snipes hit a three-run home run to center field. Bratcher had two hits in his three at-bats, both of which were singles.
Cade Fanning and Bobby Nichols also drove in runs for Tullahoma.
Tomlin got the start for Tullahoma in that opening game, tossing 3.1 innings for the Wildcats, while allowing just one run on one hit and a walk while striking out seven batters. Jack Parker threw .1 of an inning for Tullahoma, giving up a run and three walks, while striking out a batter. Colton Emory tossed the final 1.1 innings for the Wildcats, giving up just a hit with two strikeouts.
On Monday, Tullahoma found itself in a tighter contest, narrowly defeating Columbia 7-5. Holding a 3-2 lead entering the top of the fifth inning, the Wildcats padded their lead with two more runs in the frame, grabbing a 5-2 advantage, before adding two more scores in the sixth.
Fanning led Tullahoma by driving in three runs during that contest on a pair of hits, including a two-run home run in the top of the sixth. Beau Banks, Bratcher and Liam Grider also drove in runs for the Wildcats in the victory.
Bratcher made the start for Tullahoma on the hill, surrendering just three this and two walks, while striking out two batters. Snipes came in to pitch 1.1 innings and allowed two runs on a hit and three walks, while punching out three batters.
Emory tossed 1.2 innings for Tullahoma, giving up three runs, two of which were earned, on two hits and three walks, while striking out three batters. Nichols pitched the final inning for the Wildcats, allowing just a hit while recording two strikeouts.