Tullahoma faces Science Hill in opening round of state tourney on Friday
Before the regular season got underway, Wildcats' Head Coach Al Morris never thought his team would be in this situation.
With what he categorized as one of the most inexperienced and younger Tullahoma teams to hit the mat, Morris admitted that he wouldn't have guessed that his team would still be in season mode this late in the year. However, that's exactly where this ragtag bunch of Wildcats find themselves after earning a spot into the TSSAA State Duals Tournament, which get underway on Friday in Franklin.
Tullahoma captured its seventh-straight District 9-AAA Title with a 43-36 home win over Lawrence County on Jan. 22. That victory assured that the Wildcats would be facing District 8 Runner-Up Stewarts Creek during the Region 5-AAA Tournament at Siegel on Jan. 24.
Despite trailing late in the match, Tullahoma found a way to battle back against the Red Hawks. With four wins in the final six bouts, the Wildcats were able to edge out Stewarts Creek 33-32, earning their sixth state tournament berth in school history. This also marked the third time in five seasons that THS is headed back to the state duals.
While elated to be back at the state tournament –  particularly in a year where he didn't expect to have that opportunity – Morris isn't satisfied with simply qualifying. The last two state duals appearances saw Tullahoma put together a record of 1-4, the lone victory coming in 2015, after narrowly defeating Summit 33-30 in the first round of the consolation round.
"We've got to change our mindset from just getting to the state tournament. It's got to change to, 'Let's win the region tournament and place at the state duals,'" Morris said. "We are building that foundation where our expectations need to change. It doesn't need to be simply 'Let's get to region and just make it to state.' With this young group, we need to be placing at the state duals."
Those younger wrestlers have played a huge role in the Wildcats being able to have success on the mats, including in the region matchup against Stewarts Creek. Despite not garnering wins in some of their bouts, the THS grapplers didn't surrender excess points, giving the Wildcats a chance down the stretch, despite losing eight of the 14 matches.
In high school wrestling, a team receives six points per pinfall wins and forfeits, while a decision victory only amounts to three points and a major decision is four points. Early against Stewarts Creek, Tullahoma lost five-straight matches, four of which came by decisions, as Cal Rogers, Cole Morse, Christopher McCreary and Rhett Birdsong fell in close matchups.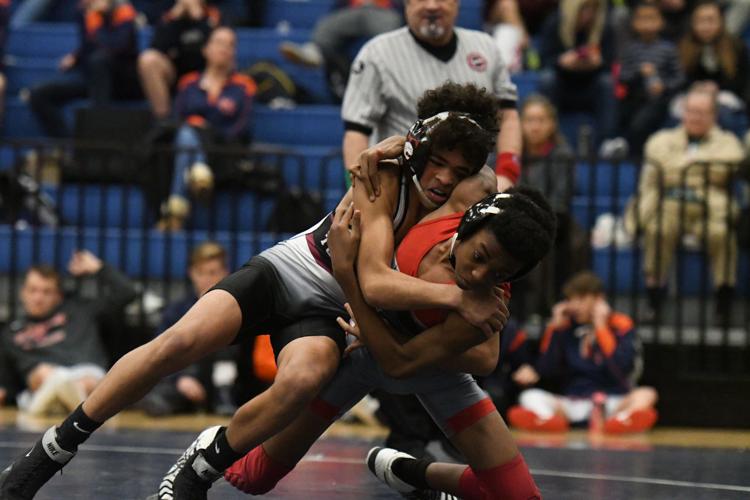 In fact, the Wildcats were only pinned once in that victory against Stewarts Creek, forfeiting the final match. Aaron Champion and John Smith avoided pinfalls in their matchups, losing by major decisions.
While Tullahoma worked to not give up excess points, it struck for those additional points when it needed them. Landen Willette won with a first-round pin, while C.J. Harden gained a decision victory, helping cut the Wildcats' deficit down to 26-15 with four bouts remaining.
From there, Trinton Partin, Brian Nelms and Jimmy Pearson sealed the victory for the Wildcats with three-straight wins by pin. Partin and Nelms won by second-round pins, before Pearson scored a first-round victory, putting the Wildcats in front 33-26.
"Most of these kids only have maybe two years of experience," Morris said. "They've got very limited mat time and we had a lot of seniors who wrestled for us last year. So, we lost that many kids from last year and now these kids are getting the opportunity to step in."
In late December, the Wildcats put together a five-match win streak, but it wasn't until mid-January when Morris said his team started to gel a bit and figure things out. On Jan. 17, the Wildcats hosted Warren County, winning a tight 39-20 matchup against a competitive Pioneers squad.
"That kind of gave us an opportunity to win a close dual meet against a good team," Morris said. "Warren County has come a long way, and we knew that match there would decide our district. I felt like after that match that the kids were hungry, they knew they had an opportunity to do something at that point in time."
Like the last two state tournament appearances, the majority of the Tullahoma wrestlers have dyed their hair blond this year, including Morris, who did so for the first time this year. The tradition started in 2015, after former Blackman wrestler Daniel Winters died in a car accident prior to the state duals that year. In solidarity, several teams around the state dyed their hair orange, one of the prominent school colors for Blackman.
In 2017, the Wildcats continued that tradition, going with a more blond color. So, to celebrate this season, the team members again dyed their hair blond before Friday's tournament.
"It signifies that you are a part of this program. This program is different than any other program, in my opinion. There's a close relationship. The kids love the family atmosphere that we provide … they wanted to do the hair thing and it's just another way to signify that they are part of this program. As long as they represent this program the right way, I'm all for it. The kids had asked me to do it and I felt like, I've never dyed my hair with some of the other teams that I coached. It just signifies that bond that we all have and I felt like I owed it to them with the season that they've had this year."
The Wildcats (14-6) will open Friday's tournament by facing off against Science Hill (21-6), who finished as runner-up at last year's state duals. Start time of that first matchup is scheduled for 5 p.m.
If Tullahoma can score a win, it will advance to face the winner of Arlington (29-5) and Maryville (22-9) at 7 p.m. on Friday. If the Wildcats lose their opening match, they will face the loser of Arlington and Maryville on Saturday morning at 9 a.m.
 "The cards are stacked against us this year, but we have an opportunity to make some noise," Morris said. "We win, we'll more than likely face Arlington and if we lose, we'll probably face Maryville. I think we can get a win before we get out of there at some point in time. That's ultimately the goal."