Eight years removed from its last quarterfinals appearance in the TSSAA Playoffs, Tullahoma is headed back to that round of the postseason after holding on for a 16-14 home win over Marshall County on Friday.
In fact, Friday night's second-round victory marks just the fourth time in school history that the Wildcats are headed to the quarterfinals. In 2010, Tullahoma advanced to the third round, with its prior two appearances happening in 1987 and in 1979.
The Wildcats (10-2) did it their way, too, using a stout defense to hold a Marshall County team to just 161 yards on the night. Even more impressive for Tullahoma, it picked up the win a little shorthanded. THS was forced to go without two key playmakers in Kobe Burks and Briasen Corn, who have combined for 26 touchdowns on the year.
"I'm just so proud of these young men tonight," said THS Head Coach John Olive. "To overcome the adversity that we have, I can't say enough good things about them. Every ballgame this year when we've had somebody who we considered a cog in the machine that's not able to play that night, somebody else has stepped up.
"To win a second-round playoff game, on a night like tonight, without Kobe and Briasen, that's a tribute to all of those guys," he added. "I'm very emotional about it is all I can tell you. I don't know if I've ever been as proud of a team as I am with this one tonight."
Down the stretch on Friday, Tullahoma was able to take advantage thanks in large part to crucial mistakes by Marshall County. After driving down to the Wildcats' 8-yard line, the Tigers' drive stalled there as they attempted a 25-yard field goal.
The holder, Bryson Hammons, couldn't quite get the ball down, forced to pick it up and start running with it. Tullahoma defensive end Ty Cox was there to tackle Hammons and stripped the ball away, recovering possession and giving the Wildcats the ball back at their 21-yard line.
Tullahoma picked up 43 yards on its next drive, but was forced to punt, as Marshall County took over at its 10-yard line. That's when Cox forced a game-changing play to put the Wildcats in front for good.
On third-and-9, the Tigers elected to attempt a pass to try to get the first down. Cox was able to get pressure on Marshall County quarterback Malik Thomison, backing him into the end zone, before Thomison threw the ball away.
Thomison was ruled to still be in the pocket and was flagged for intentional grounding. Because of where the foul took place, it resulted in a safety, putting Tullahoma up 16-14 with 3:37 remaining in the contest.
Marshall County got the ball back one last time with just a minute left on the clock at its 30-yard line. Thomison turned the ball over on the first play of the drive though, as Sam Brock intercepted a pass, sealing the victory for Tullahoma.
While late mistakes hurt the Tigers, they actually took the early lead over Tullahoma after a turnover. On a trick play, the Wildcats attempted a halfback pass, but Jakobe Thomas' throw sailed a bit and was intercepted by Marcellus Campbell, giving Marshall county possession at Tullahoma's 24-yard line.
Seven plays later, Kel Greer reached pay dirt for the Tigers, scoring on a 3-yard touchdown. John Estes drilled the extra point, giving Marshall County a 7-0 edge with 7:13 remaining in the first quarter.
That advantage held until early in the second quarter when Cox became a factor on the offensive end. On a trick play, where he was lined up on the edge, Cox was able to bring in a pass from quarterback Ben Fulton, scoring from 10 yards out to get Tullahoma on the board. Justus Chadwick booted in the extra point, evening the score at 7 with 9:11 left in the first half.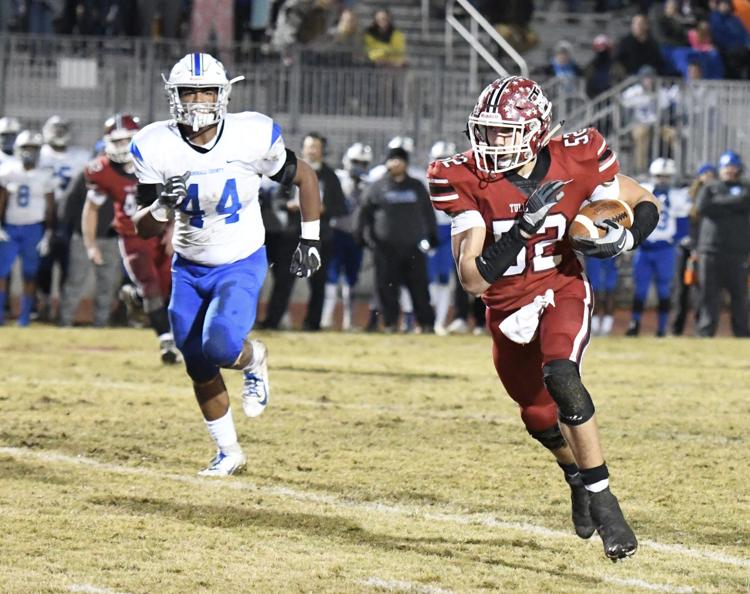 "It was a lateral, so we sprint away from him and Ty is showing pass block," Olive said. "Then Ty has to work hard to get back behind the quarterback. He's got good hands … I felt like we needed a big play, because Marshall County is tough, they are tough up front. Ben just had a good throw to Ty."
That scoring drive got Tullahoma going, as it scored on a quick, one-play drive on its next possession. After taking over at Marshall County's 34-yard line, Fulton hit Hunter Palmer for a 34-yard touchdown strike, giving the Wildcats a 14-7 lead with 7:18 left in the second quarter.
"We felt like we needed to take some shots against them early to help us out and get them to back up off us a little bit," Olive said. "That play to Ty gave us some momentum, and then we get the ball right back, and Ben hit Palmer on the post route. That was another play that we put in to catch them flat-footed and we did. Palmer can run and he did once he got even with them."
A third-quarter score allowed Marshall County to even the score with 2:48 left in the period. Thomison was able to hit running back Javarria Rucker on a wheel-route, scoring from 59 yards out, tying the score at 14.
Tullahoma turned the ball over on its next possession to start the fourth quarter. Tigers' linebacker Riqkyous Simmons tipped Fulton's pass and was able to intercept the ball, giving his team possession at the Wildcats' 25-yard line.
However, that's when the mistakes started for Marshall County after stalling at Tullahoma's 8-yard line, where the Tigers settled for the 25-yard field goal try, which was mishandled by Hammons. That was the first of three miscues for Marshall County in the final period.
While the Tigers struggled for yards, Tullahoma didn't fare much better in the win, picking up 243 yards. The majority of those yards came through the air as Fulton connected on 11 of his 14 pass attempts for 169 yards and two touchdowns, while being intercepted once.
After Corn was injured early in the first quarter, Brian Nelms stepped in at the running back position for Tullahoma. Nelms had 34 yards on 10 carries for the Wildcats. Samari Layne also came in for a fourth-quarter boost at the position, rushing for 30 yards on five attempts.
"I thought Brian did great," Olive said. "He ran downhill for us and he protected the football. I thought he was crucial to step in there. Obviously, Samari came in and was a step faster and was a good changeup for us. We may have to have a running back by committee."
For Marshall County, the majority of their plays came on the ground as Greer led his team with 57 rushing yards and a touchdown on 10 carries. Rucker added 43 yards on 19 attempts.
Thomison completed just two of his seven pass attempts on the night for 67 yards and a touchdown, while being intercepted once.
With Friday's win in hand, Tullahoma will get to travel to Nashville this coming week for a rematch. The regular-season finale saw the Wildcats losing 14-6 to Maplewood (11-1) in the Region 4-4A Championship Game on Oct. 26.
The Panthers defeated Nolensville 28-3 in the second round of the playoffs on Friday, setting up a rematch. Kickoff for this coming Friday's game is scheduled for 7 p.m.